Recipes With Course:
Appetizers It is amazing how great spinach is in so many dishes. This is just one of them from one of our favorite cooks. Ingredients1 French bread (store purchased or homemade) 1 box chopped frozen spinach, defrosted & drained 8 ounces shredded jalapeño cheese 1 medium onion, chopped fine 2 to ...
Read more This is one of our favorite recipes. The editors at RealCajunRecipes.com make it at least once every holiday season. Ingredients1 pound box of saline crackers 1 1/3 cup Canola Oil 1 1/3 tbsp crushed red pepper flakes 1 package dry ranch dressing (look for the seasoned brand)DirectionsStep 1Mix all ingredients ...
Read more Le feu et la glace conservent au vinaigre – a great Cajun snack. Ingredients1 gallon jug of dill sliced pickles 5 pounds sugar 1 2 oz bottle of Tabasco SauceDirectionsStep 1Pour the entire jar of pickles in colander; discard juice. Or better yet freeze the juice and make Pickle Juice ...
Read more My niece shared this recipe with our family Christmas 2008. These taste so much like butterfingers but have much less the calories. What is nice is that you can use all reduced fat products and save the calories for eggnog. Great for Christmas and Easter Tins. Ingredients1 box wheat thins ...
Read more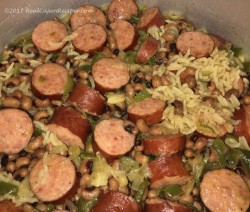 Plug in dat rice cooker! This is a fast and easy dish to make in your rice cooker. Ingredients3/4 stick butter 1 small onion, chopped 1 small bell pepper, chopped 1 pound smoked sausage sliced and browned 1 1/2 cup raw rice Creole or Cajun Seasoning to taste 1 14oz ...
Read more This recipe is a perfect use for fake crab meat. Ingredients1 package imitation crab meat 1 package crawfish tails 1 package or 2 of shredded cheese 1 can cream of mushroom soup 2 large eggsDirectionsStep 1Break up the crab meat in a large bowl. Step 2 Sauté the crawfish tails ...
Read more Cooked these for the first time yesterday, but it certainly won't be the last! I would start with a good sprinkling of both seasonings, maybe a tablespoon for each pound of shrimp. Got less than a pound, then use less than a tablespoon. IngredientsLarge Shrimp de-headed, but with shells on ...
Read more The fried gizzards at Junior Food Mart in Kaplan were legendary. Here's a copycat recipe for them! Ingredients1 1/2 pound chicken gizzards 1/2 cup more or less all-purpose flour 1 1/2 tbsp seasoning salt 1/4 tsp black pepper 1/4 tsp cayenne vegetable oil for fryingDirectionsStep 1Preheat enough vegetable oil to ...
Read more