Search Results For
Pistolettes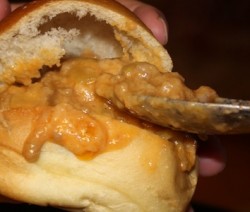 Pistolettes are a football shaped brown 'n serve bread rolls also known as French rolls. The inside of these rolls are carved out and replacing the cavity a delicious concoction of shrimp or crawfish wonderment. As my son says, there is nothing that taste better than 2 carbs together. This ...
Read more ...In Memory of Grandma Carolyn Frost My grandma's recipe is traditional for me- it's what I grew up eating at her house on special occasions. I'm so thankful she made me a cookbook as a wedding gift 15 years ago. Making these for my family brings back such great memories. ...
Read more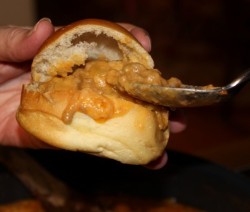 ...This is a very popular Cajun dish, a pistolette is savory, stuffed bread roll, which is then baked or deep-fried. Cooking in the wax paper makes for a crispy crust so don't skip that step! Sautéed bell pepper and breakfast sausage make for a nice addition....
Read more ...These pistolettes are very simple to make and so good! You can take your biscuits and gravy with you! This recipe is easily modified to your personal taste. Many things could be added such as cheese, onion, Tabasco sauce, your imagination is the limit....
Read more