Recipe Type:
Vegetarian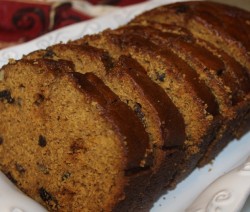 A classic pumpkin bread from C&H Sugars. So easy to prepare; turns out real easy – with a flavor that is as good and American as apple pie. Ingredients1 cup dark brown sugar firmly packed1/2 cup granulated sugar1 cup cooked or canned pumpkin1/2 cup salad oiil2 eggs unbeaten2 cups sifted all-purpose flour1 ...
Read more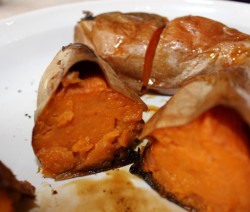 My Mom baked the best sweet potatoes. For years I tried to replicate hers and always blamed my not having a gas oven as to why mine were not quite as juicy and as flavorful. In fact I tried wrapping in foil but they still were not perfect. My problem ...
Read more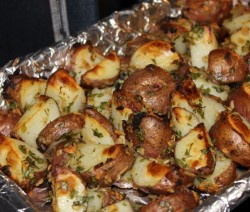 Red potatoes stay firm when cooking and are frequently referred to as new potatoes. Red potatoes which have medium to low starch hold their shape when boiled, baked or sliced. Which is why most Cajun use them to make their potato salads. Ingredients8 to 10 small red potatoes cut in ...
Read more
Our author cook writes: If you like a fresh radish or the taste of fresh grated mild horseradish, you will really like these pickled turnips. If you don't care for horse radish or radishes, you will like these anyway. You can make these turnip pickles as spicy as your taste ...
Read more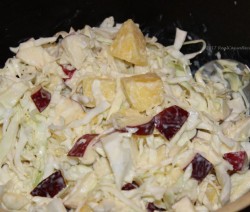 Simple, Good and Fast to prepare.   Ingredients1 small head of cabbage 1 large apple 2 cups mayonnaise 1 tsp sugar1 cup pineapple chunks (optional)DirectionsStep 1Finely shred the cabbage. Step 2Slice and dice the apples into small pieces. Step 3Mix all ingredients together, stir well and serve!
Read more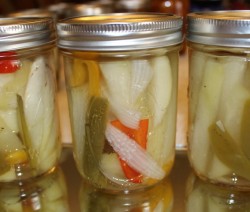 Used with gumbos or any rice and gravy dish in Cajun Country, chayote is a gourd-like squash that is about the size and shape of a very large pear. The skin is pale green and smooth with slight ridges that run lengthwise. Many compare the color to a light green ...
Read more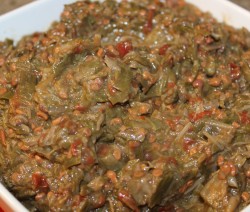 This is a classic way of cooking okra that allows you to use okra (la gombo fevi)  as a side dish or make the ever popular shrimp and okra gumbo. Ingredients3 pounds fresh or frozen okra 3 tbsp canola oil 1 cup chopped onion or 1 large onion 1 cup ...
Read more From Wikipedia – Sourdough is a bread product made by a long fermentation of dough using naturally occurring lactobacilli and yeasts. Ingredients2 cups all purpose flour 2 cups warm water 1 package dry yeastDirectionsStep 1Combine ingredients and mix well. Place in a warm spot or closed cupboard overnight. In the morning, put ...
Read more