Recipes With Course:
Soups & Salads Ingredients2 cups raisins3 large carrots grated2 cans crushed pineapple, drained - if desired; reserve juice to add to salad1 tbsp lemon juice1/2 cup mayonnaise or salad dressing DirectionsStep 1Soak raisins in pineapple juice for 20 minutesStep 2Drain and combine with remaining ingredients in large bowl - add pineapple juice here ...
Read more This dish is a Labor of Love. The stuffed heads are prized when serving this dish…so much so that one of Maw-Maw's friends would stand by the pot and dish out "your share" of the love. Ingredients60-70 cleaned crawfish heads1 whole medium head of garlic, peeled and ground up1 medium ...
Read more This simple and colorful mango salsa is super easy to make! It's sweet, spicy and absolutely delicious. Serve this fresh mango salsa with chips, on tacos or salads, or as a salad itself. It's that good. Ingredients3 ripe mangos, diced1 medium red bell pepper, chopped½ cup chopped red onion¼ cup ...
Read more Salad or Appetizer – nice choice Ingredients2 1/2 pounds cooked shrimp1/4 cup parsley 1/4 cup shallots 1/4 cup tarragon vinegar 1/4 cup wine vinegar1/2 cup olive oil 4 teaspoons Dijon mustard 2 teaspoons crushed red pepper 2 teaspoons salt fresh ground pepper to tasteDirectionsStep 1Boil peeled and clean shrimp with ...
Read more A light restaurant-quality soup, perfect for dinner parties and holidays. Was made often for our family gatherings in Cameron.
Read more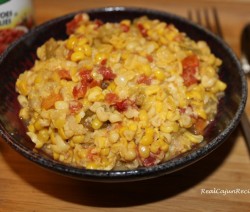 Need to freeze fresh corn or want to have macque choux without much stirring so you  can cook other foods?  The best part of using a slow cooker or crock pot is that it's simple and takes less effort and stirring than stove top cooking. Ingredients8 cups fresh corn1 1/2 onions ...
Read more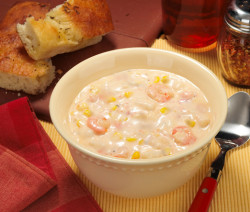 A creamy thick soup perfect for those cold nights!
Read more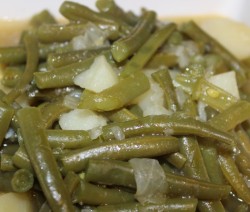 From the LSU College of Ag Center = Snap beans, green beans, or string beans…no matter which name you prefer, they are one and the same and in season! Green snap beans are categorized into two different groups, bush or pole beans, based on growth characteristics. If the bean plant needs support ...
Read more