Recipes With Course:
Soups & Salads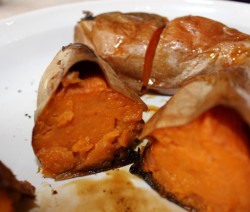 My Mom baked the best sweet potatoes. For years I tried to replicate hers and always blamed my not having a gas oven as to why mine were not quite as juicy and as flavorful. In fact I tried wrapping in foil but they still were not perfect. My problem ...
Read more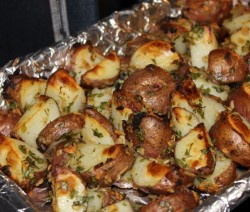 Red potatoes stay firm when cooking and are frequently referred to as new potatoes. Red potatoes which have medium to low starch hold their shape when boiled, baked or sliced. Which is why most Cajun use them to make their potato salads. Ingredients8 to 10 small red potatoes cut in ...
Read more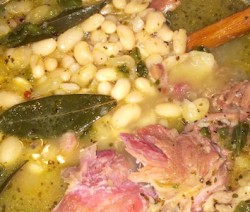 This is an amazing ham and bean soup.  It's also the perfect way to use the leftover ham bone or ham slices after Thanksgiving or Christmas.  An added bonus to this recipe is its flexibility.  If you don't deem yourself a great cook, or are afraid of taking on such ...
Read more The author writes that this is the BEST coleslaw she has ever eaten. Ingredients1 head of shredded cabbage 4 carrots or more 1 cup sugar 3 tbsp mayonnaiae 1 tbsp vinegarDirectionsStep 1Shred cabbage and carrots, mix well. Step 2In separate bowl, combine 1 cup of sugar, 3 tbsp of mayo ...
Read more This bisque is smooth and satisfying. Made with Louisiana sweet potatoes and gulf shrimp. Ingredients3 tbsp olive oil 2 pounds raw Gulf shrimp in shells 2 quarts water 1 pint dry white wine 8 ounces clam juice 2 bay leaves 1 shrimp bouillon cube 2 tbsp butter 1 cup chopped ...
Read more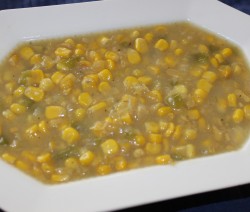 Ingredients2 (10oz) package frozen corn thawed 1 cup heavy cream 1 tsp salt 2 tbsp sugar 1/4 tsp fresh ground black pepper 2 tbsp butter 1 cup whole milk 2 tbsp all-purpose flour 1/2 cup freshly grated parmesan cheeseDirectionsStep 1I fried (roasted) the corn in the skillet a little while ...
Read more Creamy thick hearty soup made from red kidney beans. Ingredients2 cups red kidney beans 1 large onion diced 1 red pepper diced 2 large celery stalks diced 1 1/2 pound smoky bacon cubed 1 tbsp cumin 1 tsp cayenne pepper 6 cups water 2 tbsp olive oil salt to tasteDirectionsStep ...
Read more A mouthwatering gumbo deep from the heart of Acadiana swamp country. Seafood gumbo cooking at it's finest. Lump bayou crab meat and bayou hot shrimp with the fixins of Cajun vegetables and the secret of Brookie's bayou juice. Ingredients72 ounces shucked jumbo blue crab meat 6 pounds peeled & de-veined ...
Read more