Recipes With Course:
Soups & Salads Ingredients1 (15 oz) can whole kernel corn 1 (15 oz) can cream-style corn 3 eggs 1 container (8 oz) sour cream 1 box Jiffy Cornbread mix 1 1/2 sticks melted butter 1 cup grated Cheddar cheeseDirectionsStep 1Mix together all ingredients except for Cheddar Cheese; pour in a greased casserole dish. ...
Read more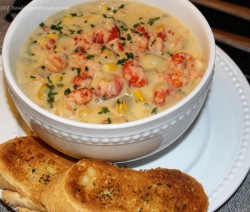 Cajuns love their seafood. This "soup for the Cajun soul" can be made with crab, shrimp, crawfish, all three or in combination with each other. Most everyone use the term Bisque and Chowder interchangeably. However bisque is smooth, chowder is thick and chunky. Traditionally it's pieces of vegetables and seafood. It also usually includes milk, ...
Read more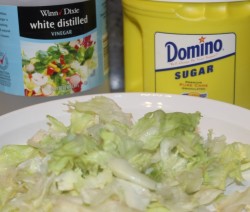 Grandma always had fresh lettuce in her vegetable garden; this was a daily dish during the spring and fall months.  Because they stay crisp, romaine leaves are great to use for this recipe also. Ingredients1 head lettuce leaves, washed and drained 1/2 cup white vinegar 1/4 cup water 1/2 cup granulated ...
Read more Ingredients3 lbs potatoes (red skinned) 4 eggs hard boiled 1 small onion, chopped fine 3/4 cup celery, chopped fine ½ cup Miracle Whip Salt and Pepper to tasteDirectionsStep 1Boil potatoes with skins until potatoes are no longer hard (you can boil the eggs at the same time). Cool potatoes, remove ...
Read more A thick, hearty comfort soup. Ingredients1 chicken fryer 2 (15 oz) cans tomato sauce 1 onion, sliced 1 bell pepper, sliced 2 cups frozen corn 3 to 4 potatoes, peeled and cut in quarters Salt & pepper to tasteDirectionsStep 1Boil whole chicken until cooked. Remove from pot and set aside ...
Read more Ingredients2 lbs squash 1 (10 oz) can cream of chicken 1 small carton sour cream 1 large carrot, grated 1 package cornbread stuffing mix 1 stick melted butter 1 onion, finely chopped 8 ounces grated sharp cheeseDirectionsStep 1Cook squash until tender in salted water. Drain well. Step 2 Together with ...
Read more