Recipe Type:
Duck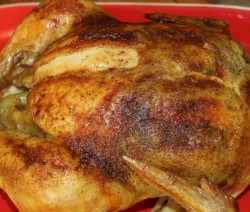 eduation.yahoo.com relates that the Cornish chicken, a breed of poultry that originated in Cornwall, England, gained prominence only after it was established in the United States. Its body shape is quite different from that of other chickens. Both males and females have short legs and broad muscular breasts. The stuffing used in this ...
Read more This recipe's author, Mike, writes: My great great grand mother taught me how to cook on a wood fired stove and I have been hooked ever sense. I spent the last 2 fall seasons in Alaska on a jut of land on the Bering Sea cooking for a duck guide. ...
Read more This recipe maybe made with tame or wild duck. Ingredients1 to two or more duck(s) of choice 1/2 cup oil (butter optional for more flavor) 1/2 cup flour 1 large onion chopped 1 small bell pepper chopped 1 to 2 ribs of celery chopped 3 pods of garlic finely minced ...
Read more A delicious and different way to make duck, particularly good for duck season! IngredientsDuck breast 1 can water chestnuts Fresh sliced jalapeños 1 pound bacon Soy sauce Spicy mustard Lea and Perrin steak sauceDirectionsStep 1Cube duck and cut the bacon slices in half. Season duck to taste. Step 2 Roll ...
Read more Marinades are used to neutralize the game flavor in ducks and wild game. I have used several marinades, including the basic Italian Dressing, but I find this one to be exceptional. Ingredients2 cups dry wine 1/2 cup soy sauce 1/4 cup balsamic or red wine vinegar 1/4 cup vegetable oil ...
Read more As the Fourth of July approaches, it's time once again time start planning how to celebrate our nation's freedom. For a backyard barbecue with a twist, consider serving a turducken with red, white and blue stuffings. A turducken is simply a turkey that is stuffed with a duck that is ...
Read more Louisiana known as Sportsman Paradise is popular for wild duck, goose and wild game hunting. If you get lucky enough to have wild game for dinner use this marinade; it works great for rabbits and squirrels too. If you find yourself without anything on hand, fill a container with ice ...
Read more Early in the morning hours when it cold and wet, better if it is raining, the Cajun hunter secures his seat in his duck blind. Here he will shoot his limit of wild ducks or geese if all is on his side. This duck bake is what you make when ...
Read more