Recipe Type:
All Poultry While on Keto diet wanted to do chicken nuggets and used pork rinds instead of flower for the breading.
Read more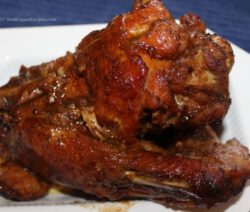 Is there really anything better than baked turkey wings?  Disneyland doesn't think so, and now you don't have to plan a trip to get your own. Baked Turkey wings when you don't need a whole turkey and you crave a delicious serving of rice and gravy Ingredients4 to 6 turkey ...
Read more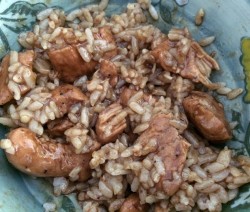 I don't know how this tastes like my grandma's, but it does. I didn't have any fresh vegetables, so I used a bunch of dried minced garlic and onions and it came out super good. Ingredients1/2 cup sifted flour1/2 cup oil3 medium chicken breasts1 heaping tsp Chicken Better than BullionSlap ...
Read more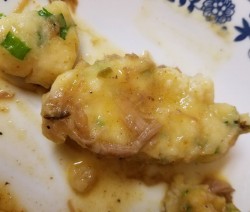 This recipe was originally posted to the Cajun French Virtual Table Francaise Facebook Group. It's different from other dumplings posted on the site because it's light and fluffy, and features parsley and onion tops. The author, Jamie Sellers, said "We cooked our dumplings in a pork roast and gravy. You ...
Read more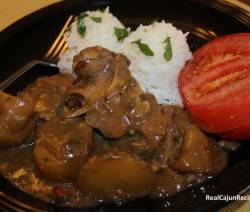 Fricassee  A thick Cajun stew made with roux and any type meat. If you were using pork this stew would also have potatoes in it. Chicken is probably the most popular meat used. This recipe is a somewhat short-cut version. Ingredients4 - 6 pork chops (depending on size) or 3 ...
Read more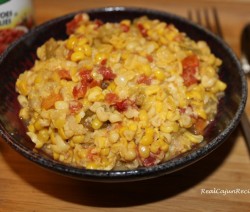 Need to freeze fresh corn or want to have macque choux without much stirring so you  can cook other foods?  The best part of using a slow cooker or crock pot is that it's simple and takes less effort and stirring than stove top cooking. Ingredients8 cups fresh corn1 1/2 onions ...
Read more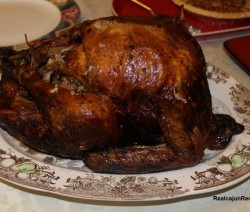 Is that Roaster Oven still in the box? Do you think what you cook may not brown or caramelize like you like? With this recipe, you can now take the oven out of the box!   IngredientsTurkey 13 to 16 pounds1 small bell pepper sliced thinly1 red or yellow onion ...
Read more This recipe shows the versatility of three popular Cajun favorites. Fresh pork sausage or smoked sausage maybe used and crawfish or shrimp may be used, Ingredients1 pound ground beef1 pound ground pork sausage, or 1/2 pound Jimmy Dean sausage or 1 pound smoked sausage1 large onion finely chopped1 bell pepper ...
Read more