Recipe Type:
All Poultry This is an easy dish to prepare. Ingredients1 whole chicken, cut up, or 6 to 8 chicken breast 1 package Lipton Onion Soup Mix Season All to taste 1 cup water 3 cups chicken broth 1 cup rice, uncookedDirectionsStep 1Lightly season the chicken with Season-All. Step 2 Bring broth and ...
Read more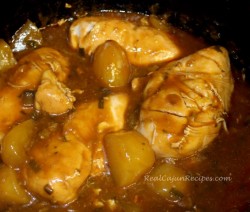 This is an old Cajun classic that has a many variations. This is my version 🙂 Ingredients1 onion, chopped 2 cloves garlic, chopped 1/2 bell pepper, chopped 1/8 tsp cayenne 1/4 tsp black pepper 1/2 tsp onion powder 1 tsp McCormick Season All 2-4 chicken breasts 1/3 jar Savoie's roux ...
Read more Boneless, skinless chicken breasts stuffed with fresh venison sausage. A spicy blend of Cajun cuisine that will please everyone's taste buds. Ingredients6-8 skinless, boneless chicken breasts 1/3 cup dry white wine 1/2 lb venison sausage 1/2 cup jalapeno peppers, chopped 1 onion, chopped 1 bell pepper, chopped 2 tbsp minced ...
Read more A thick, hearty comfort soup. Ingredients1 chicken fryer 2 (15 oz) cans tomato sauce 1 onion, sliced 1 bell pepper, sliced 2 cups frozen corn 3 to 4 potatoes, peeled and cut in quarters Salt & pepper to tasteDirectionsStep 1Boil whole chicken until cooked. Remove from pot and set aside ...
Read more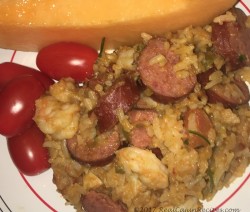 Jambalaya a mish-mash of rice, meat an/or seafood. Quick and easy way to make a one-pot meal. Add a green salad and garlic bread for a complete dinner. Use fresh or dried shrimp Ingredients1 onion, chopped 1 bell pepper, chopped 3 chicken breast, in chunks 1 package smoked sausage, cut in ...
Read more A great tasting chicken casserole that's easy to make. Ingredients8 pieces of chicken 1 stick butter 2 (10 oz) cans cream of mushroom soup 2 (14 oz) cans French onion soup 2 cups clean, uncooked riceDirectionsStep 1Melt a stick of butter and pour into a 13x9 baking dish. Mix in ...
Read more Ingredients1 roasting chicken (cut up) 2 cans biscuits 2 tbsp oilDirectionsStep 1Season chicken to taste with salt and red pepper. Brown meat in oil. Add enough water to cover the chicken. Cook for about 1 hour or until meat is tender. Step 2 Cut each biscuit into six pieces. Drop ...
Read more