Recipe Type:
All Poultry A great dinner addition (even for those who don't love Broccoli). Ingredients1 deep dish pie shell 3 ounces grated Mozzarella cheese 3 ounces sliced Mozzarella cheese 1 lb ground beef chuck or turkey OR shrimp and/or crab meat 1 (4 oz) can of mushrooms 4 ounces soft cream cheese 1 ...
Read more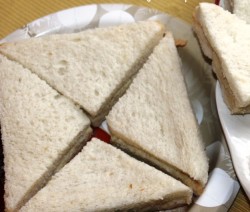 Light tasting, satisfying and a dish to feed the multitudes, this very popular classic sandwich is served at most traditional Cajun weddings. Great for parties, too. Ingredients3 loaves fresh white bread or sandwich bread 1 stalk of celery 1/2 cup sweet pickle relish (or more to taste) 2 ribs celery, ...
Read more An old-fashioned cornbread dressing. Ingredients1 chicken fryer 1 chicken liver (mashed) 1 onion 1 bell pepper 4 shallots 3 stalks celery 2 chicken bouillon cubes 1 package cornbread 3 boiled eggs, chopped Salt and pepper to taste (or use Tony's Creole Seasonings)DirectionsStep 1Remove the skin and fat from the chicken. ...
Read more Giving a party? Try this French loaf sensation. Ingredients1 French Bread Round or Sour Dough Round 1 1/2 cup sour cream 2 cups cheddar cheese 1 (8 oz ) cream cheese size 1/2 cup green onion chopped 1/2 cup ham chopped fine or cooked chicken 1/3 cup green chilies chopped ...
Read more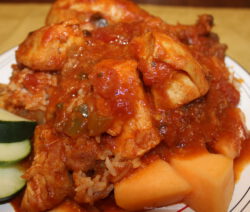 This could be called the "All American Tomato Chicken" as it appeals to everyone. This dish can be served with rice, pasta, noodles and creamed potatoes. -"Pasta is defined as shaped dough made of Durum wheat and boiled in water. … Basically, things like risoni or even fusilli are pasta, but not noodles. Spaghetti and fettuccine are ...
Read more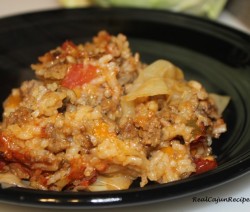 Another great "If you like cabbage" recipe.This casserole is an entire meal in one with rice, meat and vegetables.. It also reheats well if you want to make it a day ahead to bring to a gathering. For a great taste variation, add one pound crawfish or shrimp or two ...
Read more A great chicken dish excellent for a dinner party. Ingredients12 chicken breasts, skinned, halved and boned 1 cup leftover roast 2 cans cream of mushroom soup 12 bacon slices 1 cup sour cream silvered almonds optionalDirectionsStep 1Wrap each breast with a piece of bacon. Cover bottom of flat baking dish ...
Read more An excellent, low-fat dish. Ingredients2 cups rice, raw 2/3 cup bell pepper, chopped 1 cup green onion tops 1/2 cup parsley, minced 1/4 cup corn oil 1 tsp salt 1 1/2 tsp Worcestershire sauce 1/4 tbsp red pepper 2 cups beef or chicken bouillon or 2 cups water and 6 ...
Read more