Recipe Type:
All Poultry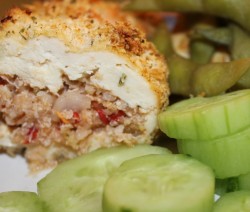 This is an easy meal to prepare. You can make this more heart healthy by baking in the oven instead of cooking it in oil. Ingredients1/2 cup onion, chopped fine 1/4 cup celery, finely chopped (or substitute celery salt and dried celery leaves to taste) 1/4 cup bell pepper chopped ...
Read more Ingredients1 whole chicken 2 cups celery, chopped 2 cups chopped onion 2 cups sweet pepper 1 clove of garlic, chopped 2 tbsp chicken fat or roux 1 (29 oz) can large tomato juice or tomato sauce 2 (4 oz) jars drained mushroom buttons, chopped fine 1 package spaghettiDirectionsStep 1Boil chicken ...
Read more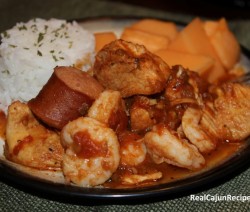 The Cajun-Creole version of paella, though more highly spiced. There are many different versions of jambalaya; in fact, the only consistent ingredients are rice, tomatoes, peppers, and onions. Ingredients12 ounces skinless chicken breast cut in 1 inch cubes 1 lb smoked sausage 2 bell peppers, chopped 1 onion, chopped 2 ...
Read more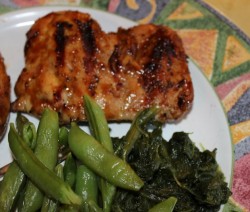 Ingredients1/2 cup onion, chopped fine 1/2 cup bell pepper, chopped 1 (8 oz) can Gebhardt's barbecue sauce (or other bbq sauce) 1 bottle ketchup 1/4 cup sugar 1/2 cup celery, chopped 2 cloves garlic, minced fine 1 (15 oz) can tomato sauce 5 drops Worcestershire Sauce 1/4 cup salad oilDirectionsStep ...
Read more Ingredients1 lb chicken livers, halved 3 tbsp flour 1/2 tsp salt 1/4 tsp pepper 1/4 cup margarine 1/2 tsp Worcestershire sauce 1 onion, chopped fine 1 celery stalk, chopped fine 1 clove garlic, chopped fine 2 jalapenos, sliced thin (optional) 3/4 cup beef brothDirectionsStep 1Coat livers in mixture of flour, ...
Read more Ingredients3 tbsp lemon juice 3 tbsp cooking oil 1/2 tsp cayene pepper 1 garlic clove, diced 1 (3 lb) whole chicken 1 tbsp salt 1 tbsp oreganoDirectionsStep 1Make the marinade first: In a large bowl, mix lemon juice, oil, pepper, salt, oregano, and garlic. Step 2 Cut the whole chicken ...
Read more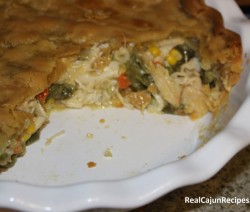 Quick and Easy – Good and Yummy! And super for leftover chicken and turkey. Ingredients2 Pillsbury pie crusts 1- 2 pound bag of frozen mixed vegetables 1/2 stick butter - 4 tblsp 1 (10 oz) can cream of chicken soup 1 (12 oz) can white chunk chicken breast or 1 ...
Read more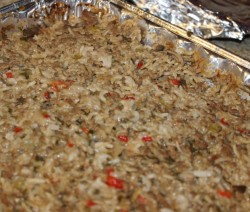 Also known as "Louisiana Dirty Rice", this dish is a true Cajun classic. There are many ways to make this dish, and this is one way from a friend of mine. Ingredients1 lb ground meat, browned 1 cup raw rice 1 (10 oz) can cream of chicken soup 1 can ...
Read more