Recipe Type:
Cake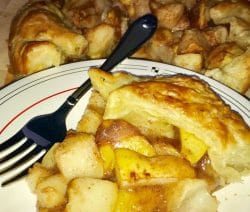 Puff pastry is a flaky light pastry made from a laminated dough composed of dough and butter or other solid fat. The butter is put inside the dough (or vice versa), and the dough is repeatedly folded and rolled out before baking. similar to making a croissant – Wikipedia  Using your ...
Read more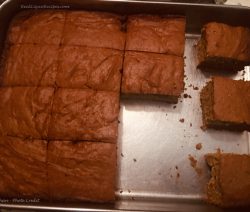 In Memory of Louella Landry Kaplan LA Cajun love making fig preserves – Great with bread, corn bread, or over cream cheese as an appetizer. Another sweet use for fig preserves is to make fig preserve muffins – so good Ingredients1 cup (2 sticks) butter 2 cups sugar 3 eggs1 ...
Read more Ingredients2 cups sugar2 eggs1 1/4 cup cooking oil2 tsp vanilla3 cups chopped apples3 cups flour1 tsp salt1 tsp soda1 cup pecansDirectionsStep 1Cream sugar and eggs, add oil, vanilla, chopped apples, then flour, salt and soda - mix well then add pecansStep 2Bake at 350 degrees for 1 hour in greased ...
Read more This recipe is a popular "bread" in almost every culture, Cajun included. This recipe has a little lagniappe – Cocoa Chocolate and Chocolate Chip. A popular bread especially when bananas are going brown. Ingredients1 cup flour1/4 cup cocoa powder 1 teaspoon baking soda ½ teaspoon sea salt 1½ cup mashed ...
Read more Ingredients1 cup softened margarine2 cups all purpose flour1/2 cup powdered sugar4 eggs2 cups sugar4 tablespoons flour7 tablespoons lemon juiceDirectionsStep 1Mix together the first three ingredients - margarine, flour, and powdered sugarStep 2Pat into the bottom of a 9 x 13" greased pan and bake for 20 minutes in a 350° ...
Read more Ingredients1 - 12 oz box vanilla wafers6 bananas, sliced thin1 - 12 oz Cool Whip1 – 8 oz can condensed milk1 – 3 ounce instant vanilla pudding mix2 cups milkDirectionsStep 1In a 13 x 9 pan, layer vanilla wafers and bananasStep 2Mix together remaining ingredients and beat wellStep 3Pour over ...
Read more Ingredients 2 cups flour1 1/2 cups sugar2 teaspoons baking soda2 teaspoons cinnamon - mix this a bit then add4 beaten eggs1 1/4 cup oil2 cups grated carrotsIcing:1 1/2 block cream cheese1 stick bitter, softened1 box powdered sugarDirectionsStep 1Use a buttered and sugared pan (grandma Rajewski's method) and bake in 3 ...
Read more Ingredients1 box yellow cake mix1 box instant vanilla pudding mix1-1/2 sticks butter (12 tbsp)1/2 cup milk1/2 cup Jack Daniels5 eggs1 pack butterscotch morsels8 oz Walnut pieces, small in sizeTopping Glaze:1 stick butter1 cup sugar1 eggDirectionsStep 1Sift cake and pudding mix togetherStep 2Add butter, milk, eggs; beat long and hard by ...
Read more