Recipes With Course:
Breads & Rolls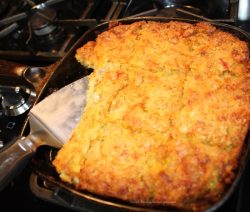 Wikipedia states  – "The Southern version of cornbread actually originated with the Native Americans" Cajuns stepped it up a notch adding shrimp or crawfish Ingredients2 eggs1 can 15oz cream style corn1/3 cup oil3/4 cup grated cheese1 box Jiffy corn bread - any flavor1/2 teaspoon liquid crab boil2 cups raw shrimp or crawfish1 ...
Read more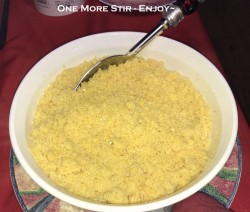 A cornmeal dish know by so many names Kush Kush, Cush Cush, Couche Couche or Coosh Coosh  – is a favored Cajun dish. It is also eaten with different condiments Milk…. Figs, Sugar, Cane Syrup,Coffee, Bacon, and Cracklings. A Cajun tradition made easy with the microwave.. Ingredients 3 cups cornmeal yellow-white ...
Read more The ideal breakfast for Christmas morning! Easy too! Prepare the night before and pop in the oven Christmas morning. SO DELISH! Your family will sing Hallelujah! Ingredients1/2 cup melted butter (1 stick)1 cup brown sugar1 loaf of thickly sliced bread - store bought or homemade4 eggs1 1/2 cup milk1 teaspoon ...
Read more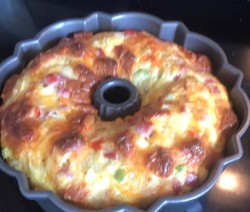 Easy and Good – Great tasting dish. Leftovers can be toasted like bread. IngredientsOne dozen whisked eggs1 can (8) Grands biscuits cut into little chunks 1/4 cup milk2 cups frozen tater tots8 oz shredded cheese ( your choice)8 oz diced ham1 cup seasoning blend (chopped onion, bell pepper, celery)dash of ...
Read more Ingredients3 cups of fresh blackberries2 cups sugar separated1 cup flour1 egg1 stick butter melted (8 tablespoons)1 teaspoon vanilla1 teaspoon baking soda1 teaspoon baking powder1 teaspoon salt1 teaspoon vanillaDirectionsStep 1If using fresh, wash, drain and paper towel dry berries lightly.. Step 2In a bowl, add one cup of sugar to the ...
Read more Make your own pumpkin puree for this recipe – Preheat oven to 325 degrees F (165 degrees C). Pie pumpkins would be great to use  – Cut the pumpkin in half, removing the seeds and pulp. Place face down on a buttered or greased cookie sheet. Bake in the preheated oven ...
Read more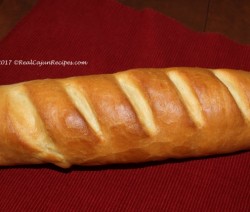 Simple  Ingredients  – Super Taste – So worth the effort Recipe adapted from Memorial Hospital Volunteer cookbook Ingredients1 cup warm water1 tablespoon shortening1 tablespoon sugar1 1/2 teaspoon salt 1 package Fleischmanns Rapid Rise yeast1/2 cup warm water 4 cups flour DirectionsStep 1Melt shortening in microwave. Dissolve sugar and salt in ...
Read more The sauce for this chocolate bread recipe hardens on the bread. The cook of the recipe writes – My Mom, Verlene Abshire made this when i was a lil girl. Now we make this for my kids and all their friends. They love it and we make a whole loaf ...
Read more