Recipes With Course:
Breads & Rolls Ingredients1 box Jiffy Cornbread Mix 1 stick melted butter 4 eggs 2 cups shredded Velveeta Cheese 1 cup cooked broccoli, drained 1 (15 oz) can whole kernel corn, drainedDirectionsStep 1Mix all ingredients together, and pour into greased 13 x 9 pan and bake at 350 for 30 minutes. Couldn't be ...
Read more Ingredients1 cup sifted flour 1 tbsp sugar 3/4 tsp salt 1/2 tsp baking powder (1/4 if double acting) 2 eggs, beaten 1 1/4 cups milk 2 tbsp melted butter 2 tsp lemon rind grated Powdered sugar or syrupDirectionsStep 1Mix all the ingredients in a medium bowl. Step 2 In a ...
Read more Ingredients3 cups Bisquick biscuit mix 1 cup grated mild cheddar cheese 1 cup milk 1 tbsp parsley flakes 4 tbsp cold butter plus 2 tbsp melted ½ tsp garlic powder plus 1/4 tspDirectionsStep 1Preheat oven to 375degrees. Step 2In a large bowl, using a pastry blender or large fork, blend ...
Read more Ingredients1 package dry yeast 1/3 cup whole-wheat flour 1 tsp salt 2 tbsp butter 1 1/2 tbsp sugar 1 1/2 cups warm buttermilk 3 cups bread flourDirectionsStep 1Mix ingredients and bake per the directions for your bread machine.
Read more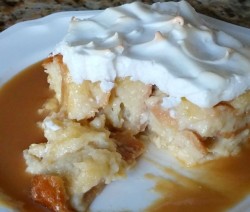 This is one of Elizabeth's favorites also….  Photo Credits to  Elizabeth Bourgeois Fuller.. Ingredients8 bread slices, broken up 4 cups milk, warmed 4 eggs, separated 1 (12 oz) can evaporated milk 1 tbsp vanilla plus 1 tsp vanilla 1 1/2 cups sugar 1 (20 oz) can crushed pineapples, drained 1/2 stick ...
Read more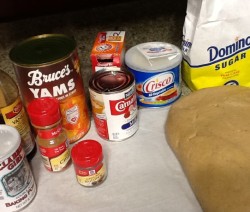 This tart recipe has been handed down from Doris' mother and my grandmother, Ella Broussard. Ingredients1 cup Crisco 4 cups flour 1 tbsp vanilla 2 cups sugar 5 eggs 5 tsp baking powderDirectionsStep 1Cream together the Crisco and sugar until fluffy. Beat eggs and vanilla into mixture. Slowly stir in ...
Read more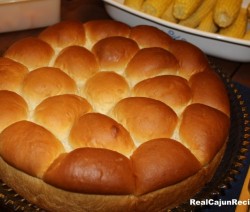 Remember the bread rolls you had in school? These are the old-fashioned schoolhouse fresh melt-in-your-mouth rolls. This recipe is from a former school cafeteria worker. Ingredients4 3/4 cups all purpose white flour 1/3 cup shortening 1/3 cup powdered milk 1/3 cup sugar 2 tsp salt 1 3/4 cup water (room ...
Read more