Recipe Type:
Fish This dish is a Labor of Love. The stuffed heads are prized when serving this dish…so much so that one of Maw-Maw's friends would stand by the pot and dish out "your share" of the love. Ingredients60-70 cleaned crawfish heads1 whole medium head of garlic, peeled and ground up1 medium ...
Read more Ingredients4 flounders1 pound crab meat1 pound shrimp1 beaten egg1 juice lemon1/2 cup breadcrumbs more or less2 garlic cloves, minced fine1 tablespoon garlic granules 1 tablespoon onion powder1 teaspoon black pepper 1/4 teaspoon red pepper1 cup onions1 cup bell pepper8 tablespoons butterDirectionsStep 1In a Teflon coated pan, sauté onion, celery and ...
Read more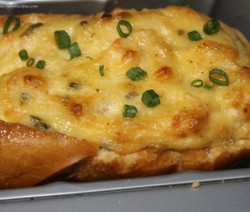 "Shrimp boats is a-comin' – there's dancin' tonight!" Shrimp Boats are a cooking we'll save you a bite – Enjoy~ Ingredients1 pound shrimp, crab meat or crawfish3/4 stick butter1/2 cup onions chopped fine1 teaspoon garlic powder1 teaspoon onion powder1/3 cup scallions onion tops1 cup cheese of choice or 2 oz ...
Read more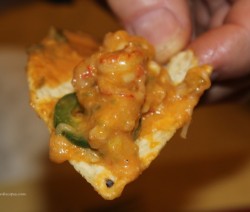 A local restaurant that has since closed made crawfish nachos that my daughter loved. Baby girl wanted crawfish nachos, Momma comes up with this recipe. Any of your favorite cheeses can be used. Ingredients1 1/2 to 2 pounds crawfish tails1 small onion, chopped fine2 short celery ribs chopped fine1 small bell pepper chopped ...
Read more Properly called bowfin, the fish carries more aliases than John … trout, cotton fish and in South Louisiana, choupique (pronounced shoe-pick). Like gars, bowfin are bimodal breathers which means they have the capacity to breathe both water and air. Bowfin are considered a "trash fish" by many, but are treasured table fare to some, who find them ...
Read more This recipe shows the versatility of three popular Cajun favorites. Fresh pork sausage or smoked sausage maybe used and crawfish or shrimp may be used, Ingredients1 pound ground beef1 pound ground pork sausage, or 1/2 pound Jimmy Dean sausage or 1 pound smoked sausage1 large onion finely chopped1 bell pepper ...
Read more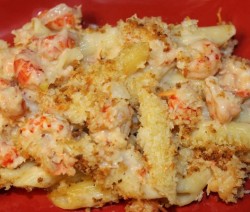 My daughter had sent me Truffle Oil from Belgium while living overseas, I then set out to find a recipe or recipes where I could use the oil. It seems there are recipes all over the net using this product. This recipe is an adaptation from FoodNetwork. Although not original ...
Read more Crawfish Étouffée is one of our favorite Cajun classics, but many newcomers find the dish tricky.  This recipe is sure to deliver delicious results in a short amount of time. Ingredients1 lbs crawfish or shrimp tails, shelled and cleaned1 onion, chopped1 bell pepper, chopped1 can cream of mushroom soup1 can Rotel ...
Read more