Recipe Type:
Fish Ingredients1 cup celery, chopped fine 1 cup chopped bell pepper 1 cup onion, chopped fine 1 (4 oz) jar chopped pimento, drained 3/4 cup salad dressing 1 1/2 tbsp mustard 1/4 cup pickle relish 3 to 4 boiled eggs, chopped 2 lbs cooked shrimp or crawfish, cut in halvesDirectionsStep 1Mix ...
Read more Ingredients1 cup onions, chopped 1 cup parsley, chopped 1 cup bell pepper, chopped 1 tsp garlic 1 (10 oz) can cream of celery soup 3/4 stick butter 4 ounces tomato sauce 1 lb crawfish 1/2 cup seasoned bread crumbs 1 tsp salt 1 egg, beaten 1 cup milk 1 tsp ...
Read more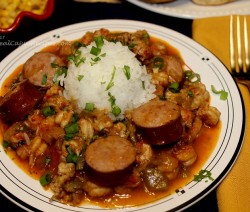 A Cajun dish so common, it's in everyone's recipe box. The no-soup etouffee -one of my personal favorites. Ingredients2 lbs peeled crawfish tails 1/2 stick (1/4 cup) butter 1/2 cup chopped celery 1 cup chopped onion 1/2 cup chopped bell pepper 2 cloves of garlic 1 tbsp cornstarch 1 tbsp ...
Read more Ingredients1 onion, chopped 1 bell pepper, chopped 3 to 4 garlic cloves, chopped 1 garfish roast Salt and pepper to taste Oil for fryingDirectionsStep 1Make a slit in the side of the Garfish so as to create a pocket. Mix together the onion, bell pepper and garlic. Season with salt ...
Read more