Recipe Type:
Fish This dip is similar to crab dip, but using tuna as a less expensive alternative. Ingredients1 large can tuna 1 can cream of mushroom soup 1 stick butter 1 large onion, finely chopped 1 bell pepper, finely chopped 1 celery stalk, finely chopped 2 tbsp parsley, chopped 1/2 tsp garlic ...
Read more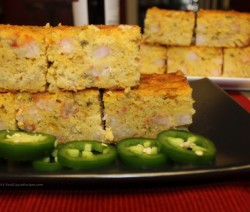 Cornbread is a favorite throughout America, though you will find different versions of it in different parts of the country. In the North, where the corn muffin holds the distinction as the official state muffin of Massachusetts, it tends to be sweeter and more cake-like. In the South it tends ...
Read more Great classic dish. A family favorite! Pronounced "Cubion" or "Kubion." A Cajun fish soup. Ingredients6 tbsp salad oil 6 tbsp flour 1/2 cup each of onion and celery, finely chopped 1/2 cup green onions, finely chopped 2 tsp garlic, finely chopped 3 cups peeled tomatoes, coarsely chopped 1 cup tomato ...
Read more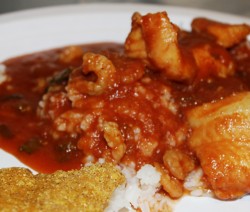 This classic dish was inspired by a wonderful restaurant in Lake Charles, Louisiana; Paw Paw's Seafood and Steak House. They were always more than happy to share their famous courtbouillon recipe; although this restaurant has now closed, their recipe lives on. Ingredients4 pounds dressed cut-up catfish 1/2 cup vegetable oil ...
Read more A popular fish dish, great for red fish or red snapper. Ingredients4 bacon slices 2 cups chopped onions 2 (16 oz) cans whole tomatoes 1 tbsp chopped parsley 1/8 tsp thyme 2 bay leaves Salt and pepper to taste 5 pounds red fish or red snapper 1 can Rotel Brand ...
Read more Not only is it awesome, it's fast and easy. Ingredients2 pounds peeled crawfish tails or shrimp 1 can cream of mushroom soup 1 can French onion soup 1 can Rotel Tomatoes w/mild chilies 1 stick butter 1 cup cooked rice 1 cup grated Monterey Jack Cheese Garlic to tasteDirectionsStep 1Note ...
Read more Ingredients1 lb of your choice of fish (1/2 lb per person) 2 small tomatoes, chopped fine 1 fresh whole lemon for juice Salt and black pepper to taste Garlic and onion powder to taste 1 tbsp parsley, chopped fine 1 tbsp green onions, chopped fineDirectionsStep 1Preheat oven to 350 degrees. ...
Read more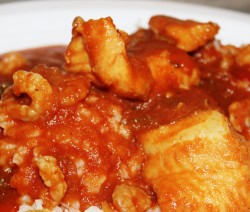 After sharing a plate of this awesome dish with my son-in-law, I thought that this recipe was too good not to send in. Ingredients1 onion, chopped 1 bell pepper, chopped 2 stalks celery, finely diced 1/2 stick margarine 1 (10 oz) can Rotel Brand tomatoes 2 heaping tablespoon of roux ...
Read more