Recipe Type:
Fish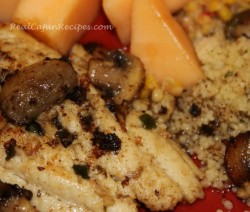 You can substitute Tilapia or Redfish. Ingredients1/8 tsp ground white pepper 1 tbsp margarine 1/8 tsp dried oregano 1/8 tsp dried thyme 1 cup thinly sliced fresh mushrooms 1/4 cup fine chopped green onions 2 tbsp dry white wine Dash of red pepper (cayenne) 1/2 cup beef stock or water ...
Read more Not only are crawfish great as a meal all by themselves, but they are wonderful in a variety of sauces. Ingredients1 package crawfish tails 1 small package fresh mushrooms, sliced 1/2 bunch green onions, chopped 1/2 cup white wine 4 tbsp butter Tony Chachere to taste Dash of worchestershire, lemon ...
Read more Boudin, one of the more popular Cajun delicacies, can be purchased from just about every supermarket, convenience store and restaurant, is basically a rice dressing stuffed in casing. Take your favorite meat (most popular are pork, crawfish and shrimp), add seasonings and rice, stuff it all in a sausage, add ...
Read more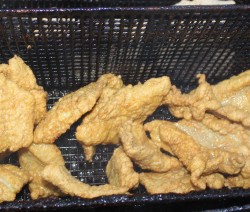 IngredientsCatfish fillets (3 to 4 pieces per person) 1 cup yellow corn meal 2 tsp Season-All or other Cajun Spice Black pepper to taste Canola or peanut oilDirectionsStep 1A deep fat fryer is preferable however a deep frying pan or cast iron like the one for making fried chicken will ...
Read more Since many Cajuns work around water and love to fish, this sauce fits the bill when either the redfish or red snapper is brought home for dinner. Ingredients1/2 cup oil 1/2 cup flour 1/4 cup chopped onion 4 cloves garlic, minced fine 1/2 cup chopped celery 2 (14 oz) cans ...
Read more A true Cajun classic. The flavor really is exceptional. This version is meant to be served over rice, pasta or puff pastry. Ingredients1/2 cup butter 1/2 cup flour 2 cups heavy cream 1 1/2 lb clean crawfish meat 1/2 tsp salt 1/2 tsp white pepper 1 1/2 tsp cayenne pepper ...
Read more Eggplant was a classic staple in Cajun Country. This recipe came into fashion when crawfish also became a staple. Shrimp substitued for Crawfish is hard to beat; shrimp compliments the taste of eggplant so well. Ingredients3 medium eggplants, peeled and quartered 1 1/2 cup chopped onions 1 cup green bell ...
Read more This noodle seafood casserole is flavorful and easy; a great presentation for guests. Ingredients2 lbs crawfish or shrimp 2 sticks margarine or butter 3 onions, chopped 2 bell peppers, chopped 3 stalks of celery, chopped 3 garlic cloves, minced fine 4 tbsp parsley, chopped fine 1/4 cup flour 1 pint ...
Read more