Recipe Type:
Deer/Venison Great main dish for any occasion, nearly fat free and will wow your eaters!
Read more This is a special venison broth that can stand alone as a broth for pasta or, if you clarify it later, as a consommé. It's stronger in flavor than stock, so if you use it as a base for stews or soups, remember that – and label your jars accordingly. ...
Read more These grillades are great served over cheese grits at a holiday brunch.
Read more Mikes writes: "This recipe is easy but cook time can take a while. Right after the war before all the gas and electric stoves and I was still very young, my Great Grand Ma and Pa would make this outside in a huge 3 legged wash pot over hot coals. ...
Read more This recipe's author, Mike, writes: My great great grand mother taught me how to cook on a wood fired stove and I have been hooked ever sense. I spent the last 2 fall seasons in Alaska on a jut of land on the Bering Sea cooking for a duck guide. ...
Read more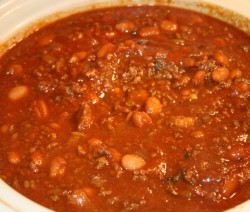 This chili is super easy to make and super good..
Read more