Recipe Type:
Beef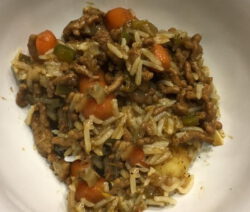 This recipe is very similar to meatball stew, but doesn't require you to make meatballs. It also has a different texture that I prefer. You can get amazing hog lard roux at The Mowata Store in Mowata, Louisiana, near Eunice. Ingredients1/2 heaping tsp Chicken Better than Bouillon1/2 heaping tsp Beef ...
Read more This dish contains most of the variety meats that Cajuns call Debris or Bouee. It consists basically of the organs such as liver, heart, kidneys, tripe, spleen (melt), the honeycomb (la platin), brain, lungs and sweetbreads (pancreas). There are two kinds of sweetbreads: stomach sweetbreads (also known as heart or ...
Read more I was raised in Lafayette Louisiana and remember eating this growing up and I think this is my favorite Jambalaya .Although you never here it being cooked a lot by Cajuns . I think it is a well deserved dish that should be remembered in Cajun world.
Read more This recipe has been adapted from Aunt Betty's recipe adding beef to the original recipe. The Ritz crackers gives this dish it unique delicious flavor. Ingredients2 - 2 1/2 pounds fresh yellow squash - approx 6 cups1 1/2 pounds ground meat4 - 6 slices bacon cut 2 inch pieces1/2 cup ...
Read more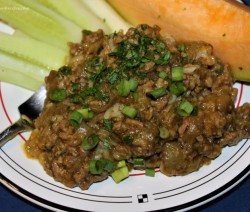 Aubergine, Eggplant or like my Cajun Momma use to say la Breme – Great in dressing, fried or etouffeed (smothered) – C'est tout bon Ingredients1 pound ground beef1 pound ground pork 1 large onion chopped1 medium bell pepper or sweet banana pepper chopped4 cloves or 1 teaspoon fresh garlic 3 ...
Read more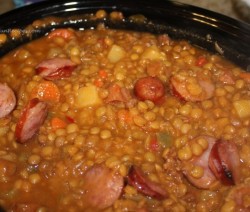 Southerners love their beans. Substitute your favorite dried bean – great for northern beans. Ingredients1 lb dried lentil beans or northern beans2 carrots, sliced in coins2 onions, chopped2 stalks of celery, chopped1 tbsp melted butter3/4 lb smoked Cajun Smoked Sausage cut in rings1/2 lb cooked ham, cut in cubes1/2 pound ...
Read more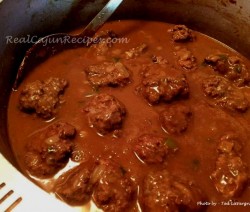 A popular south Louisiana witticism holds that there are three ways one can become a Cajun: "by blood, by marriage, and by the back door". In short, Great Food, Great Party, Great Times! Cajuns' great love of food, flavor, culture and tradition are embedded deep in their roots and the marriage ...
Read more What do you add to your meatloaf to "stretch your meal"? Cooks have used oats, breadcrumbs, vegetables and bread, Many Cajun cooks like to soften bread in milk and add the bread to the meat mixture. This recipe uses the opposite – dry saltines. Toppings vary –  Barbecue sauce, tomato ketchup, or ...
Read more