Recipe Type:
Beef A versatile eggplant dish to make with either rice or cornbread. Ingredients3 large eggplants, peeled & cubed 1 1/2 lbs ground beef meat 1/4 cup parsley Salt & pepper to taste 1 large onion, chopped 1 bell pepper, chopped 1/4 cup onion tops 3 cups cooked riceDirectionsStep 1Place peeled eggplant ...
Read more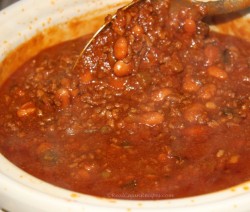 Chili always a favorite! Cooking slow and easy on the stove top or place in the slow cooker after browning the meat and basically forget about it.  It can be made with any combination of meats.such as beef, pork and venison. Ingredients5 tbsp Mexene chili powder 4 tbsp shortening 2 ...
Read more Ingredients1 lb fresh sausage 2 (15 oz) cans carrots 1 onion, sliced 1/4 cup oilDirectionsStep 1In a heavy pot, add oil and cook the sausage and onion on medium heat, waiting until the sausage browns. Once it is brown, add just enough water to cover the meat. Add the carrots, ...
Read more Ingredients2 large eggplants, peeled & cubed 1 1/2 lbs ground meat 4 cups shrimp, peeled and deveined 1 large onion, chopped 3 beef bouillon cubes 1 small bell pepper, chopped 1/2 cup parsley, chopped fine 3 slices of toasted bread, crumbled Salt and black pepper to taste Red pepper to ...
Read more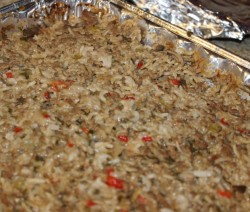 Also known as "Louisiana Dirty Rice", this dish is a true Cajun classic. There are many ways to make this dish, and this is one way from a friend of mine. Ingredients1 lb ground meat, browned 1 cup raw rice 1 (10 oz) can cream of chicken soup 1 can ...
Read more You could leave off the shrimp and it would still be great. Ingredients1 lb ground beef 1 lb ground pork 3 lbs shrimp, peeled and deveined 1 large onion and bell pepper, chopped 3 celery stalks, chopped 1 cup each green onions and parsley 2 tsp garlic powder 1 tbsp ...
Read more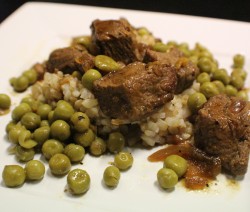 Rice and gravy is a staple here in South Louisiana. It's one of the first things you learn to cook. Any meat can be used, including chicken. This recipe was used in an instructional blog post if you'd like to have more guidance or see more photos. Ingredients1 lb round ...
Read more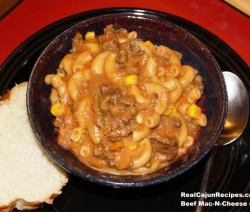 This dish is easy, inexpensive and yummy comfort food being mixed into one pot! Hungarian Goulash where the dish name Goulash originated was a stew mixture made with beef and vegetables. My guess is because what you cooked ended up in one pot where you "mixed all the stuff" together. ...
Read more