Recipe Type:
Beef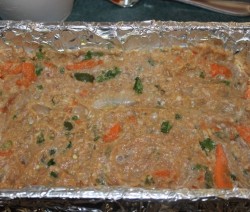 This is a semi-spicy Cajun meatloaf that calls for Everglade Seasonings which is also known as Monkey Dust. It is made of salt, spices, monosodium glutamate, dehydrated garlic and onion, sugar, and papain.
Read more This is a hand me down of Bert's Freezo famous Chili recipe. The drive-in, Bert's Freezo which was located in Kaplan, LA had the best Chili dogs and Chili Frito Pie ever. The recipe was given to Tommy originally from Mr. Campbell's (late cook at the American Legion) son. He ...
Read more Chrissy's uncle sent us this prodigious recipe  Prodigious you say… why not just say impressive
Read more Our recipe submitter writes: I'm not Cajun, just an ole Mississippi boy, but my Granddaughter married a boy from Mamou so I feel like I'm part of the family. I think all of my Cajun friends will like this dish.
Read more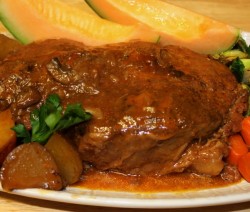 A dear friend of mine shared this recipe with me several years ago, and I have never cooked a roast any other way since. It is so tender it just falls apart. The original recipe called for 1/2 package Lipton Soup Mix
Read more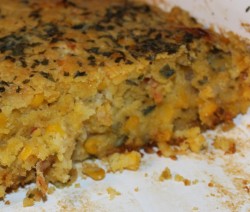 Mouth-watering Caj-Mex Cornbread that can be a meal in itself or as a side dish.
Read more This dish is so versatile as you can use either eggplant, squash or mirlitons (chayote vegetable pear squash). I am tempted to try all three together.
Read more A delicious, spicy soup with a delightful after taste!
Read more