Recipe Type:
Side Dish Great topping idea for ice cream – recipe can be double and frozen.
Read more This dish is a Labor of Love. The stuffed heads are prized when serving this dish…so much so that one of Maw-Maw's friends would stand by the pot and dish out "your share" of the love.
Read more Although not original to the Cajun culture, Mexicorn a corn mixture of corn, red and green peppers, is used by the Cajun culture for so many dishes -this is one of its favorite uses.
Read more A Cajun and his potato salad question – Do you eat your potato salad in the gumbo or on a plate and not in the gumbo dish?
Read more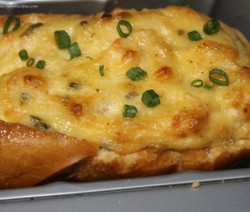 "Shrimp boats is a-comin' – there's dancin' tonight!" Shrimp Boats are a cooking we'll save you a bite – Enjoy~
Read more