Recipe Type:
Crawfish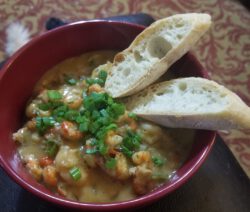 Jason's adaptation on this Crawfish Étouffée comes from a combination of a few different recipes.  This recipe makes enough to feed a large group of 15-20 people, so it's perfect for a party of any type.  To make this recipe faster, it calls for 1 1/2 containers of Guidry's Cajun ...
Read more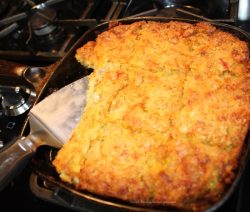 Wikipedia states  – "The Southern version of cornbread actually originated with the Native Americans" Cajuns stepped it up a notch adding shrimp or crawfish Ingredients2 eggs1 can 15oz cream style corn1/3 cup oil3/4 cup grated cheese1 box Jiffy corn bread - any flavor1/2 teaspoon liquid crab boil2 cups raw shrimp or crawfish1 ...
Read more This dish is a Labor of Love. The stuffed heads are prized when serving this dish…so much so that one of Maw-Maw's friends would stand by the pot and dish out "your share" of the love. Ingredients60-70 cleaned crawfish heads1 whole medium head of garlic, peeled and ground up1 medium ...
Read more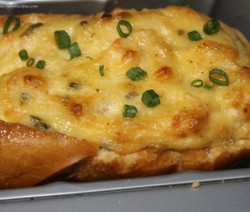 "Shrimp boats is a-comin' – there's dancin' tonight!" Shrimp Boats are a cooking we'll save you a bite – Enjoy~ Ingredients1 pound shrimp, crab meat or crawfish3/4 stick butter1/2 cup onions chopped fine1 teaspoon garlic powder1 teaspoon onion powder1/3 cup scallions onion tops1 cup cheese of choice or 2 oz ...
Read more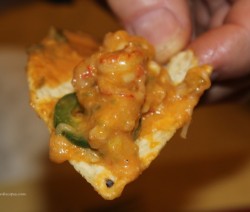 A local restaurant that has since closed made crawfish nachos that my daughter loved. Baby girl wanted crawfish nachos, Momma comes up with this recipe. Any of your favorite cheeses can be used. Ingredients1 1/2 to 2 pounds crawfish tails1 small onion, chopped fine2 short celery ribs chopped fine1 small bell pepper chopped ...
Read more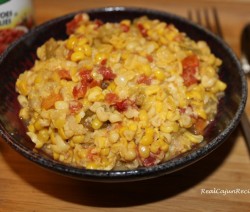 Need to freeze fresh corn or want to have macque choux without much stirring so you  can cook other foods?  The best part of using a slow cooker or crock pot is that it's simple and takes less effort and stirring than stove top cooking. Ingredients8 cups fresh corn1 1/2 onions ...
Read more Every year St Josephs Church in Franklin an annual Spaghetti dinner. Even though the balls are meatless, the bread balls with the seasonings taste very similar to meatballs.The recipe was created by Mrs. Lucy Russo mother of Rev. M. J. Russo. IngredientsSpaghetti Sauce4 heads of garlic chopped5 large onions chopped ...
Read more This is a family favorite and is usually requested as a Father's Day dinner which follows a Mother's Day crawfish boil and the leftover peeled tail meat (only if we do a second batch) is set aside to be made into pies.
Read more