Recipe Type:
Crawfish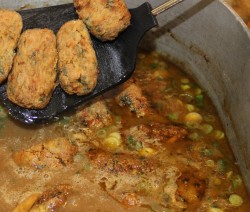 Get fo' or t'ree of y'all's people together; maybe your nonc or your parraine and Granmere' and f'sho your cher ami, especially if y'all make double or quadruple batches. Good company around the make-table makes the time go fast and the food taste better. This recipe quantity allows for freezing. If ...
Read more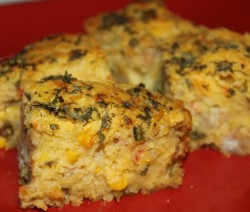 This dish is really a meal in itself! Ingredients1 pound crawfish tails 1 pound grated cheese 3 seeded and chopped jalapeno peppers 1 large chopped onion 1 large can cream style can 1 stick butter (8 tbsp) 1 tbsp vegetable oil 3 eggs 1 tsp Creole Seasonings 1 tsp baking ...
Read more This recipe is a perfect use for fake crab meat. Ingredients1 package imitation crab meat 1 package crawfish tails 1 package or 2 of shredded cheese 1 can cream of mushroom soup 2 large eggsDirectionsStep 1Break up the crab meat in a large bowl. Step 2 Sauté the crawfish tails ...
Read more This is a seafood casserole with cheese in it. My family loves it and asks me to make it all the time. Ingredients1 onion chopped 1 bell pepper chopped 1 stalk celery green onion scallions chopped 1 pound crab meat 1 pound shrimp 1 pound crawfish 2 cups cooked rice ...
Read more More and more Cajun families are combining cuisines to make wonderful meals for families. Our author write "We make this cornbread for every holiday, every special occasion and just whenever we crave it. Where other Mexican corn breads are dry, this cornbread is very moist and delicious. It is a ...
Read more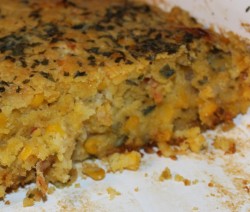 Mouth-watering Caj-Mex Cornbread that can be a meal in itself or as a side dish. Ingredients2 boxes jiffy cornbread mix 2 eggs 2/3 cup milk 1 pound ground beef or crawfish 1 medium onion, chopped 1 small bell pepper, chopped 1 jar sliced mushrooms 1/2 bag shredded Mexican cheese 1 ...
Read more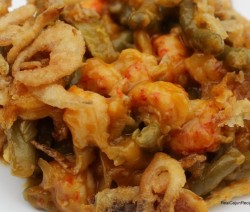 A new take on an old holiday classic favorite – the traditional green bean casserole. This is just the change you are looking for. Par-boiled fresh green beans may be used. Green beans and string beans are used interchangeable in the Cajun vocabulary. Shrimp may be used in place of ...
Read more The original recipe was for the broccoli corn bread and it was my family's favorite. But my husband has to have some type of meat, so I came up with this, and everyone loved it. I have also used shrimp, left over chicken that I deboned or even pre-cooked ground ...
Read more