Recipe Type:
Pies Recipe is from a newspaper clippings – Sarah Lemon sent this recipe on behalf of food editor Tommy Simmons who tasted it at a great get together of their "Ladies at Lunch" group. The recipe is from Lemons sister, George Anderson of Jackson Mississippi. Ingredients2 lbs fresh or frozen blackberries2 ...
Read more Ingredients3 cups fresh blackberries2 cups sugar1 cup flour1 egg1 stick butter, melted1 teaspoon vanilla1 teaspoon baking soda1 teaspoon baking powder1 teaspoon saltI teaspoon vanillaDirectionsStep 1Wash berries then place on paper towel in 9 x 13 pan to drainStep 2Combine sugar and remaining ingredients, mix wellStep 3Spread mixture evenly over blackberriesStep ...
Read more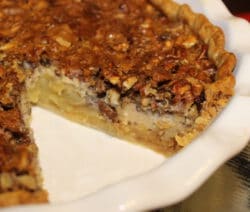 The mystery ingredient – cream cheese – many will seldom guess the surprise ingredient Ingredients1 - 9 inch pie crustCream Cheese Layer 1 8 ounce package cream cheese softened1 egg1 teaspoon vanilla1/3 cup sugar1/4 teaspoon saltSyrup Mixture3 eggs1/4 cup sugar1 cup Karo or light corn syrup1 teaspoon vanillaPecans1 1/2 cup ...
Read more