Recipes With Course:
Appetizers In Memory of Grandma Carolyn Frost My grandma's recipe is traditional for me- it's what I grew up eating at her house on special occasions. I'm so thankful she made me a cookbook as a wedding gift 15 years ago. Making these for my family brings back such great memories. I hope ...
Read more Ingredients2 cups raisins3 large carrots grated2 cans crushed pineapple, drained - if desired; reserve juice to add to salad1 tbsp lemon juice1/2 cup mayonnaise or salad dressing DirectionsStep 1Soak raisins in pineapple juice for 20 minutesStep 2Drain and combine with remaining ingredients in large bowl - add pineapple juice here ...
Read more This dish is a Labor of Love. The stuffed heads are prized when serving this dish…so much so that one of Maw-Maw's friends would stand by the pot and dish out "your share" of the love. Ingredients60-70 cleaned crawfish heads1 whole medium head of garlic, peeled and ground up1 medium ...
Read more This simple and colorful mango salsa is super easy to make! It's sweet, spicy and absolutely delicious. Serve this fresh mango salsa with chips, on tacos or salads, or as a salad itself. It's that good. Ingredients3 ripe mangos, diced1 medium red bell pepper, chopped½ cup chopped red onion¼ cup ...
Read more Although not original to the Cajun culture, Mexicorn a corn mixture of corn, red and green peppers, is used by the Cajun culture for so many dishes -this is one of its favorite uses. Ingredients2 boxes JIFFY corn-muffin mix3 eggs1 medium onion, chopped1/2 cup seeded jalapeno peppers, chopped3/4 cup cooking ...
Read more Memaw use to make this for us but would always say "now remember this is for 1 cup ONLY". Ingredients1 tsp Hershey's Cocoa powder2 tsp sugar2 tsp hot milk1 cup milk - do not boildash of vanilla extractDirectionsStep 1In a large mug mix the cocoa and sugar, Step 2Add the ...
Read more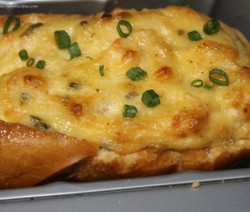 "Shrimp boats is a-comin' – there's dancin' tonight!" Shrimp Boats are a cooking we'll save you a bite – Enjoy~ Ingredients1 pound shrimp, crab meat or crawfish3/4 stick butter1/2 cup onions chopped fine1 teaspoon garlic powder1 teaspoon onion powder1/3 cup scallions onion tops1 cup cheese of choice or 2 oz ...
Read more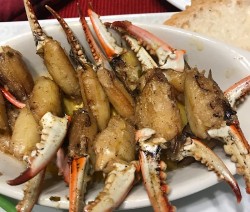 Definitely a delicious treat  – Blue Point Crab Fingers. Mostly used as an appetizer, it is generally served with a Shrimp Remoulade Sauce, crab salad or deep fried and served with a seafood cocktail sauce. See our Remoulade Sauce recipe –  Shrimp Remoulade Sauce   Ingredients1 stick butter (8 tablespoon)2 -3 garlic pods, ...
Read more