Recipes With Course:
Appetizers Fall always reminds me of sugar cane, syrup and popcorn balls. My favorite as a young child. Ingredients2 quarts popcorn 2 cups Steen's (cane syrup) 1 tsp salt 1 tsp butterDirectionsStep 1Pop the corn and set aside. Boil syrup and salt on medium heat. Stir constantly until syrup forms a ...
Read more Classic boudin with pork livers added. Ingredients5 lbs pork meat, chopped (pork butt roast is a good choice) 2 lbs pork livers 3 cups rice, steamed 4 onions, chopped 2 bunches green onion tops, chopped 3 tbsp parsley flakes 3 tbsp celery flakes 2 tsp salt or to taste 3 ...
Read more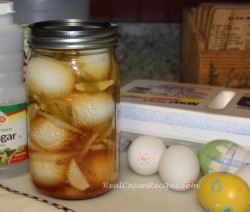 Pickling is one of the oldest methods of preserving foods. Pickling is the preserving of food in an acid (usually vinegar), and it is this acid environment that inhibits undesirable bacteria growth. Ingredients1 dozen eggs, boiled and peeled 1 onion, sliced 1 big bell pepper, sliced 7-9 garlic cloves Vinegar ...
Read more