Search Results For
Jambalaya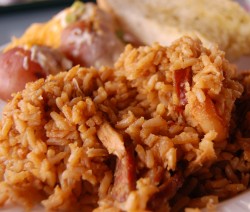 ...Wayne Abshire, Vice President of the Jambalaya Festival in Gonzales, gave us his very own Jambalaya recipe....
Read more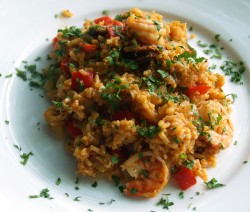 Jambalaya, a Cajun/Creole dish, is perhaps the most versatile main dish that Louisiana has to offer. Jambalaya may be made with beef, pork, chicken, duck, shrimp, oysters, crayfish, sausage, or any combination. Some of the more standard additions are green pepper, cayenne pepper, parsley celery, and onions. Generally, the vegetables ...
Read more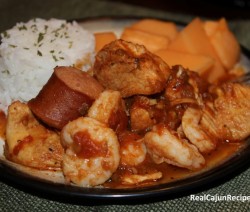 The Cajun-Creole version of paella, though more highly spiced. There are many different versions of jambalaya; in fact, the only consistent ingredients are rice, tomatoes, peppers, and onions.
Read more ...MaryAnn Broussard Recipe Collection for Ms Ronnie Mack Broussard Cajuns love their rice, and their modern rice cookers. No matter the brand, Cajuns refer to their rice cooker as a Hitachi!...
Read more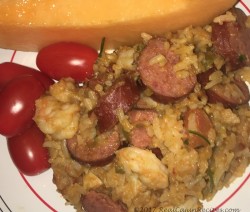 ...Jambalaya a mish-mash of rice, meat an/or seafood. Quick and easy way to make a one-pot meal. Add a green salad and garlic bread for a complete dinner. Use fresh or dried shrimp...
Read more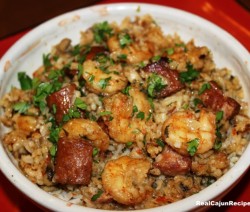 ...This is a very easy to make shrimp Jambalaya. Great for a Lenten meal – substitute vegetable broth for chicken broth. One to two links of sliced smoked sausage may be added. Cajuns called their rice cookers Hitachi back in the day when everyone had that brand; in making this ...
Read more ...Beef Short Ribs Jambalaya may take a little extra cooking time but so worth the effort. …… Many like this dish spicy as some say "spicy is always better' however without the extra hot spice this dish has it own wonderful and tasty flavor....
Read more ...Here is a jambalaya that your family can enjoy. It has lots of flavor, veggies, and low-fat meats!...
Read more