Search Results For
Jambalaya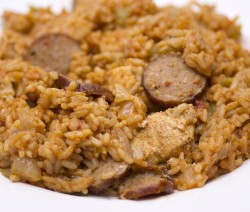 Jambalaya, a Cajun/Creole dish, is perhaps the most versatile main dish that Louisiana has to offer. The most important thing with this dish is to use the right equipment; any heavy bottomed cast iron pot or Dutch oven.
Read more ..."Blackened" food, while not traditionally Cajun, was created by Cajun chef Paul Pruhomme in the mid-1980s. According to CajunCulture.com this new invention "sparked a worldwide Cajun food craze" This recipe is a basic Cajun (brown) jambalaya; the difference is the chicken is blackened and added at the end so there ...
Read more ...Jambalaya is possibly the most versatile of the traditional Southern dishes along with gumbo. Ingredients include a combination of rice, vegetables and meat, poultry, or seafood. This version is made with fresh sausage and smoked sausage....
Read more Note that this recipe is prepared to feed the masses at large family reunions, vendors street fairs, school events, food festivals and political gatherings. Kaplan, LA, in the year 2005, celebrated its first Cajun Food Festival. All types of fun Cajun foods were served. Make plans to attend in April/May. ...
Read more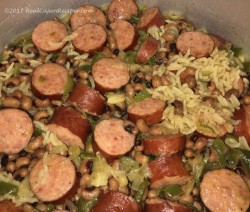 Plug in dat rice cooker! This is a fast and easy dish to make in your rice cooker.
Read more ...You won't find this one in cookbooks, it's an original from Ms Bert!!...
Read more