Recipe Type:
Turkey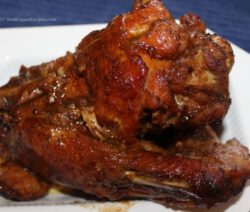 Is there really anything better than baked turkey wings?  Disneyland doesn't think so, and now you don't have to plan a trip to get your own. Baked Turkey wings when you don't need a whole turkey and you crave a delicious serving of rice and gravy Ingredients4 to 6 turkey ...
Read more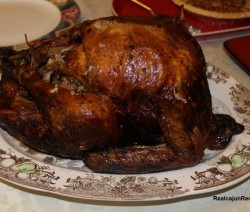 Is that Roaster Oven still in the box? Do you think what you cook may not brown or caramelize like you like? With this recipe, you can now take the oven out of the box!   IngredientsTurkey 13 to 16 pounds1 small bell pepper sliced thinly1 red or yellow onion ...
Read more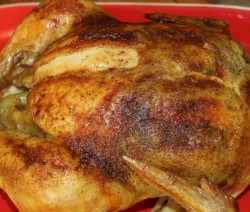 eduation.yahoo.com relates that the Cornish chicken, a breed of poultry that originated in Cornwall, England, gained prominence only after it was established in the United States. Its body shape is quite different from that of other chickens. Both males and females have short legs and broad muscular breasts. The stuffing used in this ...
Read more The author writes – This is a recipe that I have modified from baked chicken to turkey. It is very moist, and very tasty. It is self- basting as you will see from the recipe instructions. There will be a transfer of smoked flavor from the bacon into the turkey. ...
Read more From the author: This is a Fried Turkey Recipe everyone will love. Not hot, no weird spices that produce a non-traditional Thanksgiving Turkey Flavor, this recipe is a garlicky, buttery, flavorful original Cajun Deep Fried Turkey. I worked for years perfecting this recipe and it is absolutely the best traditional, ...
Read more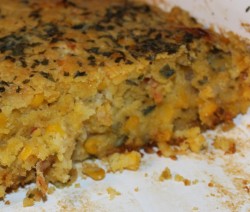 Mouth-watering Caj-Mex Cornbread that can be a meal in itself or as a side dish. Ingredients2 boxes jiffy cornbread mix 2 eggs 2/3 cup milk 1 pound ground beef or crawfish 1 medium onion, chopped 1 small bell pepper, chopped 1 jar sliced mushrooms 1/2 bag shredded Mexican cheese 1 ...
Read more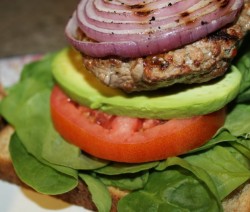 These are the best burgers I've ever eaten. My sister Wanda has been making these for as long as I can remember. My 12 year old recently had one of hers and suggested that I make them at home. I did; and we've agreed that Wanda's are better. Ingredients1 pound ...
Read more Excellent as side dish with any meat or as a main dish served with vegetables. This recipe was adapted from a recipe that traditionally uses pork. Ingredients2 pounds ground turkey, ground sirloin beef or pork 2 to 3 large egg plants, peeled & cubed 1 large yellow onion, chopped 1 ...
Read more