Recipe Type:
Turkey This is a sorta spicy, warm, filling soup that is great on those chilly winter nights here is Louisiana
Read more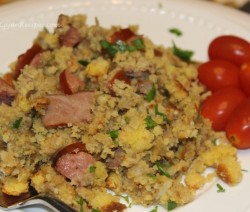 A great casserole made without rice. An eggplant casserole made without rice that can be eaten as cooked, or used for stuffed bell pepper or for delicious cornbread dressing.
Read more Merliton is also known as chayote, custard marrow, christophene, chouchoute and mango squash. For all these exotic names, this is simply a type of squash family, made particularly yummy in this recipe.
Read more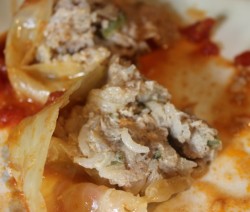 Cabbage is often prepared by boiling, usually as part of soups or stews similar to borscht (beet soup). Boiling tenderizes the leaves, and releases sugars, and develops the characteristic "cabbage" aroma.
Read more As the Fourth of July approaches, it's time once again time start planning how to celebrate our nation's freedom. For a backyard barbecue with a twist, consider serving a turducken with red, white and blue stuffings. A turducken is simply a turkey that is stuffed with a duck that is ...
Read more I ate these this weekend at Holly Beach and it reminded me of being at the Vermilion Parish baseball parks playing softball and watching my brother pitch. Mom told me the secret to their burgers is the extra butter that's added and the Evangeline Maid buns. These burgers, like all ...
Read more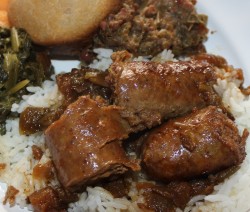 One of the most constant classic dish that Cajuns enjoy – rice and gravy! A family favorite.
Read more