Recipe Type:
Appetizers This dish is a Labor of Love. The stuffed heads are prized when serving this dish…so much so that one of Maw-Maw's friends would stand by the pot and dish out "your share" of the love.
Read more This simple and colorful mango salsa is super easy to make! It's sweet, spicy and absolutely delicious. Serve this fresh mango salsa with chips, on tacos or salads, or as a salad itself. It's that good.
Read more Although not original to the Cajun culture, Mexicorn a corn mixture of corn, red and green peppers, is used by the Cajun culture for so many dishes -this is one of its favorite uses.
Read more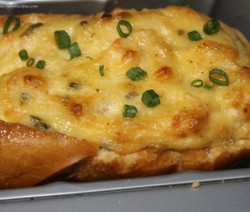 "Shrimp boats is a-comin' – there's dancin' tonight!" Shrimp Boats are a cooking we'll save you a bite – Enjoy~
Read more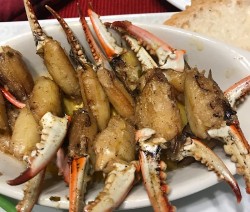 Definitely a delicious treat  – Blue Point Crab Fingers. Mostly used as an appetizer, it is generally served with a Shrimp Remoulade Sauce, crab salad or deep fried and served with a seafood cocktail sauce. See our Remoulade Sauce recipe –  Shrimp Remoulade Sauce
Read more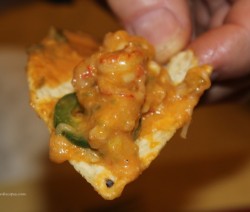 A local restaurant that has since closed made crawfish nachos that my daughter loved. Baby girl wanted crawfish nachos, Momma comes up with this recipe. Any of your favorite cheeses can be used.
Read more Every year St Josephs Church in Franklin an annual Spaghetti dinner. Even though the balls are meatless, the bread balls with the seasonings taste very similar to meatballs.The recipe was created by Mrs. Lucy Russo mother of Rev. M. J. Russo.
Read more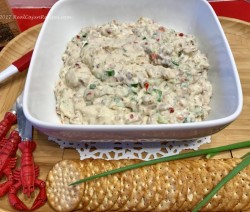 There are several versions of Cajun Caviar – this is one of them. A word on this dip: The longer left in the fridge the better. One day is good; the next day is better; and one week later it is "Oh my God, how good"! The secret is to ...
Read more