Recipe Type:
All Seafood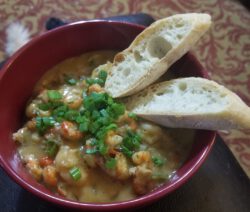 Jason's adaptation on this Crawfish Étouffée comes from a combination of a few different recipes.  This recipe makes enough to feed a large group of 15-20 people, so it's perfect for a party of any type.  To make this recipe faster, it calls for 1 1/2 containers of Guidry's Cajun ...
Read more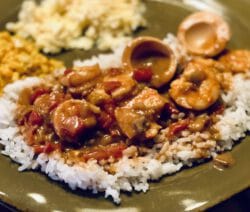 Shrimp and Egg Stew is a popular Louisiana dish, enjoyed by many.  It's not only delicious, but it's easy to make. Ingredients4 tbsp dark roux1 cup onion, chopped3 stalks of celery, chopped1 tbsp tomato paste 1 can of Rotel tomatoes1 can of cream of mushroom soup2-3 cups of water3-4 eggs, ...
Read more This recipe is an adaptation of a recipe originally seen on Facebook from Holden, LA – Maw-Maw added some tidbits. The crabs are cooked outside over flames or charcoal and offers a great alternative to boiling Ingredients2 dozen crabslemon pepper or Cajun seasonings butter melted garlic butter for dipping DirectionsStep ...
Read more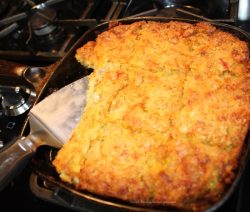 Wikipedia states  – "The Southern version of cornbread actually originated with the Native Americans" Cajuns stepped it up a notch adding shrimp or crawfish Ingredients2 eggs1 can 15oz cream style corn1/3 cup oil3/4 cup grated cheese1 box Jiffy corn bread - any flavor1/2 teaspoon liquid crab boil2 cups raw shrimp or crawfish1 ...
Read more This dish is a Labor of Love. The stuffed heads are prized when serving this dish…so much so that one of Maw-Maw's friends would stand by the pot and dish out "your share" of the love. Ingredients60-70 cleaned crawfish heads1 whole medium head of garlic, peeled and ground up1 medium ...
Read more Ingredients4 flounders1 pound crab meat1 pound shrimp1 beaten egg1 juice lemon1/2 cup breadcrumbs more or less2 garlic cloves, minced fine1 tablespoon garlic granules 1 tablespoon onion powder1 teaspoon black pepper 1/4 teaspoon red pepper1 cup onions1 cup bell pepper8 tablespoons butterDirectionsStep 1In a Teflon coated pan, sauté onion, celery and ...
Read more Ingredients1/4 stick of butter1 onion chopped1 teaspoon garlic chopped1 rib of celery chopped1 can Rotel tomatoes1 can cream of mushroom soup1 cup sliced mushrooms3/4 pound shrimp and 1/2 pound crabmeat2 cups cooked rice1 package of Swiss cheese or Swiss cheese slices1 package of grated cheddar cheese or cheddar cheese slices ...
Read more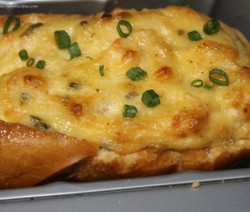 "Shrimp boats is a-comin' – there's dancin' tonight!" Shrimp Boats are a cooking we'll save you a bite – Enjoy~ Ingredients1 pound shrimp, crab meat or crawfish3/4 stick butter1/2 cup onions chopped fine1 teaspoon garlic powder1 teaspoon onion powder1/3 cup scallions onion tops1 cup cheese of choice or 2 oz ...
Read more