Recipes With Course:
Main Dishes This recipe is an adaptation of a recipe originally seen on Facebook from Holden, LA – Maw-Maw added some tidbits. The crabs are cooked outside over flames or charcoal and offers a great alternative to boiling
Read more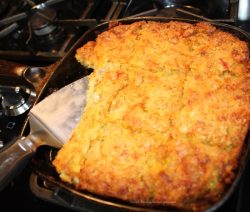 Wikipedia states  – "The Southern version of cornbread actually originated with the Native Americans" Cajuns stepped it up a notch adding shrimp or crawfish
Read more In Memory of Grandma Carolyn Frost My grandma's recipe is traditional for me- it's what I grew up eating at her house on special occasions. I'm so thankful she made me a cookbook as a wedding gift 15 years ago. Making these for my family brings back such great memories. I hope ...
Read more A Super Shortcut recipe for a Great Cajun Classic!! When the author shared this recipe with her MeMaw, she commented that she was not fond of it. Her words "I don't care much for quick or short cut recipes", or as the author likes to call them "lazy recipes". Once ...
Read more This dish is a Labor of Love. The stuffed heads are prized when serving this dish…so much so that one of Maw-Maw's friends would stand by the pot and dish out "your share" of the love.
Read more This dish contains most of the variety meats that Cajuns call Debris or Bouee. It consists basically of the organs such as liver, heart, kidneys, tripe, spleen (melt), the honeycomb (la platin), brain, lungs and sweetbreads (pancreas). There are two kinds of sweetbreads: stomach sweetbreads (also known as heart or ...
Read more A nice alternative to boiling crabs.- filling can be used to stuff mushrooms and to make shrimp eggrolls
Read more