Recipes With Course:
Main Dishes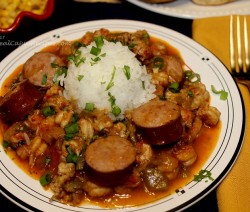 A Cajun dish so common, it's in everyone's recipe box. The no-soup etouffee -one of my personal favorites. Ingredients2 lbs peeled crawfish tails 1/2 stick (1/4 cup) butter 1/2 cup chopped celery 1 cup chopped onion 1/2 cup chopped bell pepper 2 cloves of garlic 1 tbsp cornstarch 1 tbsp ...
Read more Another Cajun Classic! So good, you'll slap your momma. Ingredients1 lb cubed pork chops or pork fingers 1/2 cup oil 1 onion, sliced 1 cup parsley 1/2 cup green onion tops 2 cups rice 2 cups hot water 1/2 tsp red pepper 1/2 tsp black pepper 1 tbsp saltDirectionsStep 1Cook ...
Read more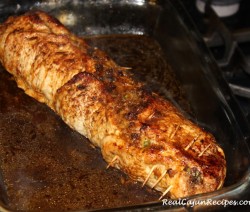 Ingredients1 pork loin 2 Andouille sausages 2 tbsp Tony Chachere's Seasoning 2 cups water 1 cup pureed fig preservesDirectionsStep 1Preheat oven to 350 degrees. Step 2Place pork loin on a cutting board and, using a long knife, slice into the pork loin along the length, creating a pocket. Also make ...
Read more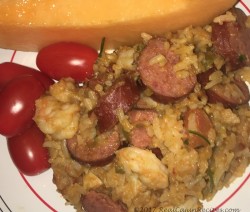 Jambalaya a mish-mash of rice, meat an/or seafood. Quick and easy way to make a one-pot meal. Add a green salad and garlic bread for a complete dinner. Use fresh or dried shrimp Ingredients1 onion, chopped 1 bell pepper, chopped 3 chicken breast, in chunks 1 package smoked sausage, cut in ...
Read more A great tasting chicken casserole that's easy to make. Ingredients8 pieces of chicken 1 stick butter 2 (10 oz) cans cream of mushroom soup 2 (14 oz) cans French onion soup 2 cups clean, uncooked riceDirectionsStep 1Melt a stick of butter and pour into a 13x9 baking dish. Mix in ...
Read more Ingredients1 roasting chicken (cut up) 2 cans biscuits 2 tbsp oilDirectionsStep 1Season chicken to taste with salt and red pepper. Brown meat in oil. Add enough water to cover the chicken. Cook for about 1 hour or until meat is tender. Step 2 Cut each biscuit into six pieces. Drop ...
Read more