RealCajunRecipes.com – The Cookbook!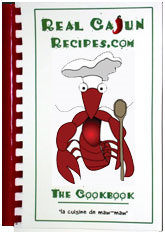 Looking for the perfect Christmas, Wedding, Birthday or Graduation gift? RealCajunRecipes.com – The Cookbook is now available! Our cookbook is packed with

350 classic Cajun recipes

such as gumbo, boudin, etouffée, cush cush, beignets, fried frog legs, fried turkey, bread pudding and many more of the recipes for which Cajuns are famous.
Every recipe in the collection is like visiting my granny in Breaux Bridge years ago…familiar, and enjoying some great meals!! Thanks for a great cookbook!! ~ Karen
We are currently sold out! Thank you for your support
How Cajun is this cookbook?
Well, we all hail from Vermilion Parish in Louisiana aka "The Most Cajun Place on Earth." So you can rest assured knowing that true Cajuns put this collection together to represent nothing but the best recipes of our culture, from Cameron Parish to Lafourche Parish. Good eating from real Cajun people – dis cookbook gonna show you how!
Cookbooks are currently available for only $14.00 plus $3.00 S&H per book. In an effort to have your cookbooks arrive by Christmas, we are going to ship these cookbooks PRIORITY this Holiday Season.
FAQ
Q. Cajun huh? Where y'all from?
We grew up in Vermilion Parish — specifically, Kaplan and Erath. Chrissy and Brandon have since moved away, but Mawmaw is still in Acadiana.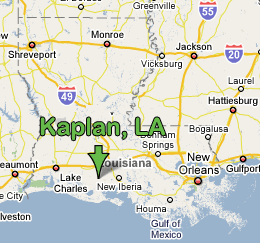 Q. What recipes can I expect from your cookbook?
A. It's a lot like the cookbook you'd find at Auxillary fundraisers in Southwest Louisiana. There are 350 recipes in this 8.5×6.5 spiral bound cookbook. Click here for a complete list. We currently only offer the cookbook in softcover.
Q. What payment methods do you accept?
A. We accept MasterCard, Visa, Discover and Amex through our merchant provider, Paypal. If you have any questions about the checkout process or want to place the order by phone, please feel free to call us at 602-317-7501.
You can also send check or money order for $17.00 to:
RealCajunRecipes.com
316 N Ave L
Crowley, LA 70526
Q. What about discounts for buying in bulk?
A. Although we would love to offer discounts from ordering in bulk, our price is so low for each cookbook that we cannot afford to go lower than $17 per book.
Q. How did you select the recipes that are in the book?
A. We searched and selected our most visited and popular recipes, the recipes that received the highest ratings and threw in some Nouveau (newer) Cajun dishes on top of it all. You should find every true Cajun recipe you are looking for in this book.
Q. What does "la cuisine de maw-maw" mean?
A. This phrase has more than one meaning. It can be translated as Grandma's Kitchen or Grandma's Cooking or A Cajun Grandma's Style of Cooking.
This is definitely real, south of I-10, home cookin'. Many books SAY "Cajun". This IS "Cajun". ~ James K.
I just received your cookbook in the mail, and I love it. I decided to buy another one to send to my friend in Detroit. She misses La. cooking so much, so I thought your cookbook would help. Thanks so much for all of the great recipes! ~ Tiffany