Recipe Type:
Crab This recipe is an adaptation of a recipe originally seen on Facebook from Holden, LA – Maw-Maw added some tidbits. The crabs are cooked outside over flames or charcoal and offers a great alternative to boiling
Read more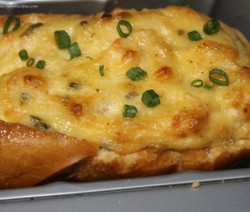 "Shrimp boats is a-comin' – there's dancin' tonight!" Shrimp Boats are a cooking we'll save you a bite – Enjoy~
Read more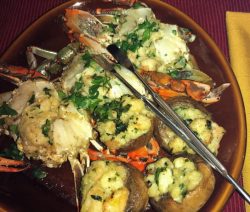 A nice alternative to boiling crabs.- stuffing can be used to stuff mushrooms and to make shrimp egg rolls
Read more This recipe is one of our old handwritten recipes written down from a dinner party
Read more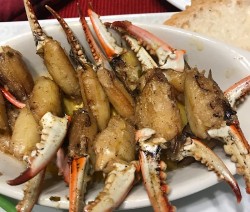 Definitely a delicious treat  – Blue Point Crab Fingers. Mostly used as an appetizer, it is generally served with a Shrimp Remoulade Sauce, crab salad or deep fried and served with a seafood cocktail sauce. See our Remoulade Sauce recipe –  Shrimp Remoulade Sauce
Read more A light restaurant-quality soup, perfect for dinner parties and holidays. Was made often for our family gatherings in Cameron.
Read more Every year St Josephs Church in Franklin an annual Spaghetti dinner. Even though the balls are meatless, the bread balls with the seasonings taste very similar to meatballs.The recipe was created by Mrs. Lucy Russo mother of Rev. M. J. Russo.
Read more