Recipe Type:
Crab Use both shrimp and crab for an even better flavor – bake or fry. Or place in an 8×8 casserole dish, top with shredded cheese and bake at 350 degrees for 15 minutes until warmed thoroughly and cheese is melted.
Read more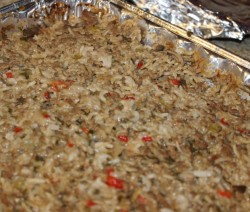 Also known as "Louisiana Dirty Rice", this dish is a true Cajun classic. There are many ways to make this dish, and this is one way from a friend of mine.
Read more A rich crab bisque for a main meal or as an appetizer. A good friend Kenneth from Breaux Bridge, LA, gave me this recipe many, many years ago.
Read more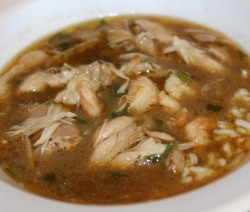 A true Cajun classic. The original recipe had 2 tbsp vegetable oil and 2 tbsp flour and  quarts of water. At the end of the cooking cycle right before being served, the powdered file was added and the cook would dip the ladle in and out of the gumbo aerating the broth; ...
Read more