Recipe Type:
Crab Ingredients1/2 lb shrimp, peeled 1/2 cup onion, chopped fine 1 (5 oz) can of crab meat or lobster 1 tsp tomato paste 1/2 cup breadcrumbs 1/2 cup celery 1/2 stick margarine or butter 1 cup cooked rice 8 bell peppers (medium)DirectionsStep 1Prepare the bell peppers: Cut the tops off the ...
Read more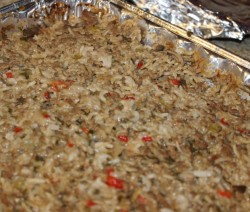 Also known as "Louisiana Dirty Rice", this dish is a true Cajun classic. There are many ways to make this dish, and this is one way from a friend of mine. Ingredients1 lb ground meat, browned 1 cup raw rice 1 (10 oz) can cream of chicken soup 1 can ...
Read more Ingredients1 tbsp low fat margarine 2 shallots or 1 small onion, finely chopped 3-4 cloves garlic, finely minced 1/2 cup low fat evaporated milk 1/2 cup low sodium, low fat chicken broth 1/4 cup parmesan cheese, grated 1/4 cup mild cheddar, shredded 1/2 to 1 lb crawfish (can be substituted ...
Read more A rich crab bisque for a main meal or as an appetizer. A good friend Kenneth from Breaux Bridge, LA, gave me this recipe many, many years ago. Ingredients1 stick butter 1 small white onion chopped fine 2 (10 oz) packages frozen creamed corn 1 pint half and half 1 ...
Read more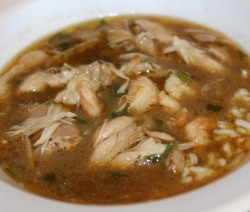 A true Cajun classic. The original recipe had 2 tbsp vegetable oil and 2 tbsp flour and  quarts of water. At the end of the cooking cycle right before being served, the powdered file was added and the cook would dip the ladle in and out of the gumbo aerating the broth; ...
Read more My mother's recipe. Ingredients2 lbs Shrimp 2 cups crab meat 1 cup onions chopped 1 cup celery chopped 1 bell pepper 1 clove garlic 1 cup water 3 (15 oz) cans tomato sauce 1 (10 oz) can Rotel tomato 1 1/2 sticks butter Dollop of ketchup Salt to tasteDirectionsStep 1Sauté ...
Read more