Recipe Type:
Crab How do I love oysters , let me count the ways….This is one of them. Ingredients3 tablespoon fresh bacon fat or butter 1 small onion2 tablespoon minced shallot2 pints oyster with liquer3 cups whole milk or half and half1/4 cup green onions1/4 cup chopped parsleysalt to tastepinch of cayenneDirectionsStep 1In ...
Read more This was an interesting recipe for Maw-Maw. It was the 1st time that the word "cobbler" was used in a crabmeat recipe. In reviewing the recipe and the ingredients, one of the differences was the tomatoes. Another interesting ingredient was the Accent; Accent is a brand name for MSG. MSG ...
Read more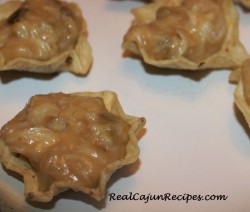 This recipe makes me long for the days of crabbing at Rockefeller Refuge with my children. Rockefeller Wildlife Refuge, located in eastern Cameron and western Vermilion Parishes, is owned and maintained by the State of Louisiana. When the Rockefeller Foundation officially granted the property to the state, they spelled out ...
Read more MaryAnn Broussard Recipe Collection for Ms Ronnie Mack Broussard Cajuns love their rice, and their modern rice cookers. No matter the brand, Cajuns refer to their rice cooker as a Hitachi! Ingredients1 pound peeled shrimp 1 pint oysters, drained 1- 6oz can crabmeat or 1/2 cup fresh 1 can 4oz ...
Read more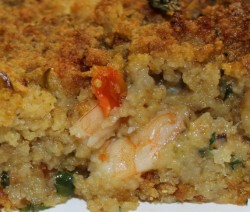 Enjoy this fun information on LA seafood: in a blind taste test, consumers chose Louisiana oysters over others sold in the US 85% of the time. Cajuns will chose it 100% of the time. Fried Oyster or Fried Shrimp compliment this dish. Ingredients1 stick butter 1 medium onion minced 3 ...
Read more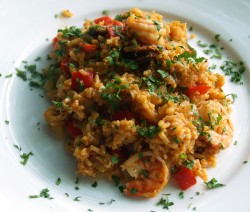 Jambalaya, a Cajun/Creole dish, is perhaps the most versatile main dish that Louisiana has to offer. Jambalaya may be made with beef, pork, chicken, duck, shrimp, oysters, crayfish, sausage, or any combination. Some of the more standard additions are green pepper, cayenne pepper, parsley celery, and onions. Generally, the vegetables ...
Read more My friend Todd lives in a small Cajun town called Church Point La. Church Point is a town in Acadia Parish, Louisiana. St. Landry Hospital, has organized an annual Buggy Festival, held in Church Point on the first weekend in June. The town was chosen because residents had used buggies ...
Read more WBRZ of Baton Rouge, LA has a spotlight segment that celebrates a "Chef of the Month". The Chef featured was the chef from Juban's Creole restaurant. This recipe is timely as mirliton are in season at his time and relatively inexpensive. Ingredients6 small mirlitons 1/2 pound ground pork 1 cup ...
Read more