Recipe Type:
Crab A mouthwatering gumbo deep from the heart of Acadiana swamp country. Seafood gumbo cooking at it's finest. Lump bayou crab meat and bayou hot shrimp with the fixins of Cajun vegetables and the secret of Brookie's bayou juice. Ingredients72 ounces shucked jumbo blue crab meat 6 pounds peeled & de-veined ...
Read more This recipe is a perfect use for fake crab meat. Ingredients1 package imitation crab meat 1 package crawfish tails 1 package or 2 of shredded cheese 1 can cream of mushroom soup 2 large eggsDirectionsStep 1Break up the crab meat in a large bowl. Step 2 Sauté the crawfish tails ...
Read more This is a seafood casserole with cheese in it. My family loves it and asks me to make it all the time. Ingredients1 onion chopped 1 bell pepper chopped 1 stalk celery green onion scallions chopped 1 pound crab meat 1 pound shrimp 1 pound crawfish 2 cups cooked rice ...
Read more We know Mawmaw and Grandma did not have the luxury of cream soups but that does not mean a Cajun can't use them. Especially since Mawmaw and Grandma now use them too! Ingredients1 cup margarine or butter 1 cup onion chopped 1 cup bell pepper chopped 5 cups raw shrimp ...
Read more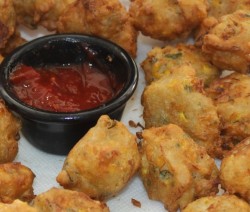 MawMaw halved the recipe and still made 20 beignets. Ingredients4 cups canola 3 cups flour 2 cups milk 1 tbsp baking powder 1 tbsp seasoned salt 1 tbsp garlic 1 tsp thyme 1 tsp Original Louisiana hot sauce 1 pound lump crab meat 2 cups fresh corn cooked 1/4 cup ...
Read more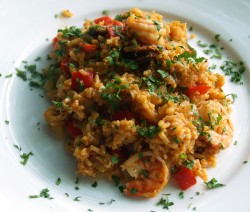 Ingredients3 pounds cleaned shrimp 1 pound crabmeat 1 dozen oysters 1 pound smoked sausage 3 cups rice 1 small can tomato sauce 1 large onion chopped 2/3 cup chopped parsley 1/2 cup shallots (not scallions) 1 cup chopped bell pepper 2/3 cup cooking oil salt and red pepper to tasteDirectionsStep ...
Read more Eggplants compliment other foods nicely as a side dish and are hearty enough to steal the show in a main course – as this recipe sure will! Ingredients2 large eggplants 1 tbsp salt 1 medium onions, diced 1 bell pepper, diced 1/2 cup diced celery 2 large cloves garlic, minced ...
Read more Ingredients2 tbsp olive oil 6 jumbo artichokes 1 cup mayonnaise 1/4 cup mayonnaise 1/4 tsp Worcestershire sauce 1/4 tsp fine salt 1/4 tsp fresh black pepper 1/4 cup bread crumbs, dried 1/2 tsp tarragon, dried 2 tbsp chopped scallions 2 tbsp chopped parsley leaves 2 tsp grated lemon zest 1 ...
Read more