Recipes With Course:
Main Dishes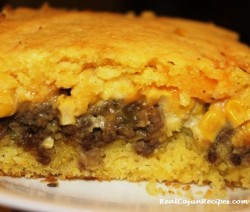 Jiffy Cornbread Mix is the "cornbread" to this recipe. The slight sweetness of the cornbread enhances the taste of the dish. Thanks to Linda D Noel for Method 2 preparation.   Ingredients1 lb ground beef1/2 cup onion, chopped fine1/2 cup bell pepper, chopped fine1/2 lb cheddar cheese, grated 2 jalapenos, ...
Read more Every year St Josephs Church in Franklin an annual Spaghetti dinner. Even though the balls are meatless, the bread balls with the seasonings taste very similar to meatballs.The recipe was created by Mrs. Lucy Russo mother of Rev. M. J. Russo. IngredientsSpaghetti Sauce4 heads of garlic chopped5 large onions chopped ...
Read more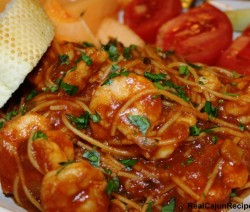 The unique flavor of this dish develops when the spaghetti is cooked in the pot with the tomato and roux based sauce.  Spaghetti is the choice pasta but the dish may be prepared with a pasta of your choice. Ingredients1/2 cup prepared roux or scratch roux (1 cup flour and ...
Read more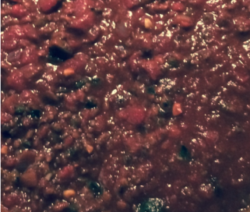 Chili Cook Off – Blue Ribbon First Place – RaginCajun aka Rajun Cajuns from South Louisiana!!! It's always a Texas Day all over town on this day as it was the first day of the Houston Livestock Show and Rodeo.  Trail riders from all over ride into town after a ...
Read more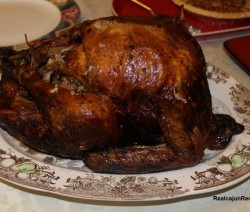 Is that Roaster Oven still in the box? Do you think what you cook may not brown or caramelize like you like? With this recipe, you can now take the oven out of the box!   IngredientsTurkey 13 to 16 pounds1 small bell pepper sliced thinly1 red or yellow onion ...
Read more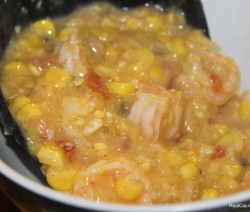 Delicious entree or side dish made of fresh corn and shrimp; easy, versatile, and quick to cook. Ingredients2 sticks butter4 cups fresh cut corn or fresh frozen2 cans ROTEL brand tomatoes (tomato with green chilies)1 can cream of mushroom1 can cream of shrimp2 medium onions, chopped2 ribs celery chopped1 bell pepper chopped1 ...
Read more This recipe shows the versatility of three popular Cajun favorites. Fresh pork sausage or smoked sausage maybe used and crawfish or shrimp may be used, Ingredients1 pound ground beef1 pound ground pork sausage, or 1/2 pound Jimmy Dean sausage or 1 pound smoked sausage1 large onion finely chopped1 bell pepper ...
Read more How do I love oysters , let me count the ways….This is one of them. Ingredients3 tablespoon fresh bacon fat or butter 1 small onion2 tablespoon minced shallot2 pints oyster with liquer3 cups whole milk or half and half1/4 cup green onions1/4 cup chopped parsleysalt to tastepinch of cayenneDirectionsStep 1In ...
Read more