Recipes With Course:
Main Dishes No Cajun wedding reception is complete without a wonderful food, booze (drink responsibly), and the "Chicken Dance" song. While often placed firmly on the "do not play" list along with "YMCA" and the "Macarena," the song about flapping your wings like a silly bird still sneaks onto the set list ...
Read more This was an interesting recipe for Maw-Maw. It was the 1st time that the word "cobbler" was used in a crabmeat recipe. In reviewing the recipe and the ingredients, one of the differences was the tomatoes. Another interesting ingredient was the Accent; Accent is a brand name for MSG. MSG ...
Read more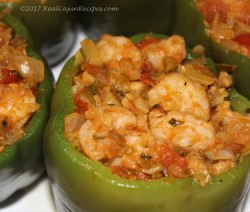 No Rice Shrimp Stuffed Bell Peppers Need to make use of your garden's crop of bell pepper, zucchini, and tomatoes? Try this delicious no-rice stuffed bell pepper paired with shrimp – freezes well and fits many weight plans. A simple dish that would be great for Weight Watchers and KETO.. ...
Read more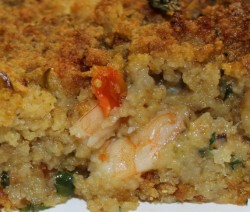 Enjoy this fun information on LA seafood: in a blind taste test, consumers chose Louisiana oysters over others sold in the US 85% of the time. Cajuns will chose it 100% of the time. Fried Oyster or Fried Shrimp compliment this dish. Ingredients1 stick butter 1 medium onion minced 3 ...
Read more MaryAnn Broussard Recipe Collection for Ms Ronnie Mack Broussard Cajuns love their rice, and their modern rice cookers. No matter the brand, Cajuns refer to their rice cooker as a Hitachi! Ingredients1 pound peeled shrimp 1 pint oysters, drained 1- 6oz can crabmeat or 1/2 cup fresh 1 can 4oz ...
Read more Ingredients1 1/2 lb pork loin/backbone (or pork chops with bone in) 3 -5 medium Irish potatoes, peeled and cubed 2 cloves of garlic, minced 1 onion, chopped 1 large bell pepper, chopped 2 stalks celery, chopped 1 quart water Salt, black pepper and red pepper to taste 1 cup flour ...
Read more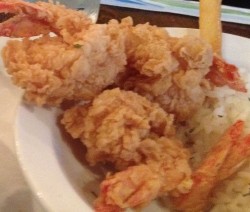 Back in the day, when you were hungry after a night of fun dancing in Kaplan, you would head out to the Vermilion Cafe to replenish your energy for the next time. If you had the privilege of meeting Ms. Inez, you knew you did not want her giving you ...
Read more From the author: "This is a dish that I make and I never have leftovers. It is a simple casserole dish with great flavor." Ingredients1 bag egg noodles (medium size does best) 2 cans cream of broccoli soup 1 can cream of mushroom soup 1 pound breakfast sausage 4 cups ...
Read more