Recipes With Course:
Main Dishes Ingredients6 10 venison steaks (cubed is best) in a pinch you could substitute beef or pork instead 1 can mushrooms (small) 2 sweet onions chopped 1 bell pepper chopped 1 bunch chopped parsley 1/3 cup sweet basil 2 ounces Heinz 57 Sauce 2 ounces A-1 Steak Sauce 1 to 2 ...
Read more These grillades are great served over cheese grits at a holiday brunch. Ingredients2 pounds venison tenderloin cut into 3/4" cubes 1 to 2 minced garlic 1 tbsp salt 1/2 tsp cayenne 1/2 tbsp ground black pepper 1/2 tsp garlic powder 1/2 cup all-purpose flour 1/2 cup vegetable oil 2 cups ...
Read more The author writes – This is a recipe that I have modified from baked chicken to turkey. It is very moist, and very tasty. It is self- basting as you will see from the recipe instructions. There will be a transfer of smoked flavor from the bacon into the turkey. ...
Read more Mikes writes: "This recipe is easy but cook time can take a while. Right after the war before all the gas and electric stoves and I was still very young, my Great Grand Ma and Pa would make this outside in a huge 3 legged wash pot over hot coals. ...
Read more Ingredients2 pounds flounder fillets 1/2 cup yellow cornmeal 1/8 tsp black pepper 1/4 cup butter or margarine 1 cup tarragon vinegar 1/2 cup sifted all-purpose flour Cucumber Sauce 1 cup dairy sour cream 1/4 tsp salt 1/4 tsp paprika 1 tsp lemon juice 1 cup grated pared cucumber dash pepper ...
Read more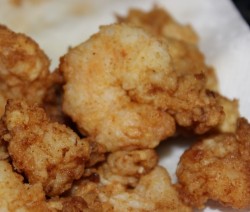 Ingredients1 cup flour 1 tsp baking powder 1/2 tsp salt 1 egg 2/3 cup milk 1 tbsp oil 1 1/2 pound shrimp, shelled and deveined 1/2 tsp red pepper oil for fryingDirectionsStep 1Combine flour, baking powder and salt. Mix together egg, milk and tablespoon corn oil; add to flour mixture. ...
Read more This recipe's author, Mike, writes: My great great grand mother taught me how to cook on a wood fired stove and I have been hooked ever sense. I spent the last 2 fall seasons in Alaska on a jut of land on the Bering Sea cooking for a duck guide. ...
Read more This is a shortcut chicken and dumplings recipe. If you'd like to make the dumplings yourself, check out our homemade dumplings recipe. Ingredients1 whole chicken 2 sweet onions 4 red potatoes 1/2 stick butter 1 quart whole milk garlic clove bunch of parsley 1/2 large spoon Accent 2 cans Butter ...
Read more