Recipe Type:
All Seafood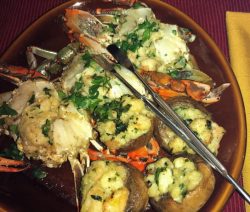 A nice alternative to boiling crabs.- stuffing can be used to stuff mushrooms and to make shrimp egg rolls Ingredients12 crabs cleaned and seasoned with salt and pepper or your favorite Cajun seasoning1 cup chopped onions1 pound chopped shrimp8 tbsp butter1 tsp Cajun seasoning to taste1/4 cup Parmesan cheeseOne slice ...
Read more This recipe is one of our old handwritten recipes written down from a dinner party Ingredients1/4 stick of butter (2 tablespoon)1 medium onion chopped1 teaspoon garlic chopped1 rib celery chopped1 can Rotel tomatoes1 can cream of mushroom soup1 cup sliced mushrooms3/4 pound shrimp and 1/2 pound crab meat2 cups cooked ...
Read more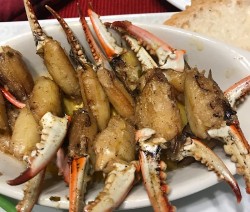 Definitely a delicious treat  – Blue Point Crab Fingers. Mostly used as an appetizer, it is generally served with a Shrimp Remoulade Sauce, crab salad or deep fried and served with a seafood cocktail sauce. See our Remoulade Sauce recipe –  Shrimp Remoulade Sauce   Ingredients1 stick butter (8 tablespoon)2 -3 garlic pods, ...
Read more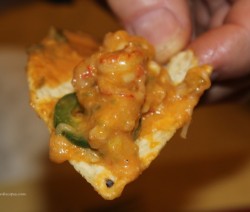 A local restaurant that has since closed made crawfish nachos that my daughter loved. Baby girl wanted crawfish nachos, Momma comes up with this recipe. Any of your favorite cheeses can be used. Ingredients1 1/2 to 2 pounds crawfish tails1 small onion, chopped fine2 short celery ribs chopped fine1 small bell pepper chopped ...
Read more Properly called bowfin, the fish carries more aliases than John … trout, cotton fish and in South Louisiana, choupique (pronounced shoe-pick). Like gars, bowfin are bimodal breathers which means they have the capacity to breathe both water and air. Bowfin are considered a "trash fish" by many, but are treasured table fare to some, who find them ...
Read more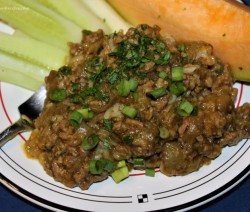 Aubergine, Eggplant or like my Cajun Momma use to say la Breme – Great in dressing, fried or etouffeed (smothered) – C'est tout bon Ingredients1 pound ground beef1 pound ground pork 1 large onion chopped1 medium bell pepper or sweet banana pepper chopped4 cloves or 1 teaspoon fresh garlic 3 ...
Read more Salad or Appetizer – nice choice Ingredients2 1/2 pounds cooked shrimp1/4 cup parsley 1/4 cup shallots 1/4 cup tarragon vinegar 1/4 cup wine vinegar1/2 cup olive oil 4 teaspoons Dijon mustard 2 teaspoons crushed red pepper 2 teaspoons salt fresh ground pepper to tasteDirectionsStep 1Boil peeled and clean shrimp with ...
Read more A light restaurant-quality soup, perfect for dinner parties and holidays. Was made often for our family gatherings in Cameron.
Read more