Recipe Type:
All Seafood Crawfish Étouffée is one of our favorite Cajun classics, but many newcomers find the dish tricky.  This recipe is sure to deliver delicious results in a short amount of time.
Read more This bisque is smooth and satisfying. Made with Louisiana sweet potatoes and gulf shrimp.
Read more This was an interesting recipe for Maw-Maw. It was the 1st time that the word "cobbler" was used in a crabmeat recipe. In reviewing the recipe and the ingredients, one of the differences was the tomatoes. Another interesting ingredient was the Accent; Accent is a brand name for MSG. MSG ...
Read more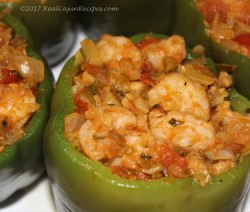 No Rice Shrimp Stuffed Bell Peppers Need to make use of your garden's crop of bell pepper, zucchini, and tomatoes? Try this delicious no-rice stuffed bell pepper paired with shrimp – freezes well and fits many weight plans. A simple dish that would be great for Weight Watchers.. You are ...
Read more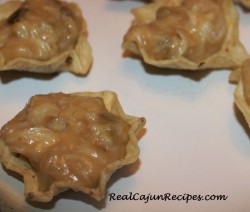 This recipe makes me long for the days of crabbing at Rockefeller Refuge with my children. Rockefeller Wildlife Refuge, located in eastern Cameron and western Vermilion Parishes, is owned and maintained by the State of Louisiana. When the Rockefeller Foundation officially granted the property to the state, they spelled out ...
Read more Cajuns love their rice, and their modern rice cookers. No matter the brand, Cajuns refer to their rice cooker as a Hitachi!
Read more