Recipe Type:
All Seafood This bisque is smooth and satisfying. Made with Louisiana sweet potatoes and gulf shrimp. Ingredients3 tbsp olive oil 2 pounds raw Gulf shrimp in shells 2 quarts water 1 pint dry white wine 8 ounces clam juice 2 bay leaves 1 shrimp bouillon cube 2 tbsp butter 1 cup chopped ...
Read more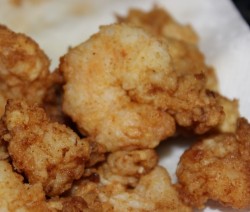 Ingredients1 cup flour 1 tsp baking powder 1/2 tsp salt 1 egg 2/3 cup milk 1 tbsp oil 1 1/2 pound shrimp, shelled and deveined 1/2 tsp red pepper oil for fryingDirectionsStep 1Combine flour, baking powder and salt. Mix together egg, milk and tablespoon corn oil; add to flour mixture. ...
Read more This was an interesting recipe for Maw-Maw. It was the 1st time that the word "cobbler" was used in a crabmeat recipe. In reviewing the recipe and the ingredients, one of the differences was the tomatoes. Another interesting ingredient was the Accent; Accent is a brand name for MSG. MSG ...
Read more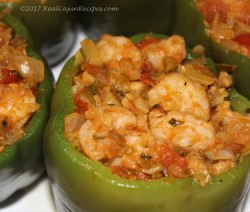 No Rice Shrimp Stuffed Bell Peppers Need to make use of your garden's crop of bell pepper, zucchini, and tomatoes? Try this delicious no-rice stuffed bell pepper paired with shrimp – freezes well and fits many weight plans. A simple dish that would be great for Weight Watchers and KETO.. ...
Read more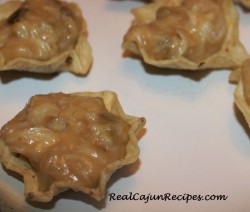 This recipe makes me long for the days of crabbing at Rockefeller Refuge with my children. Rockefeller Wildlife Refuge, located in eastern Cameron and western Vermilion Parishes, is owned and maintained by the State of Louisiana. When the Rockefeller Foundation officially granted the property to the state, they spelled out ...
Read more MaryAnn Broussard Recipe Collection for Ms Ronnie Mack Broussard Cajuns love their rice, and their modern rice cookers. No matter the brand, Cajuns refer to their rice cooker as a Hitachi! Ingredients1 pound peeled shrimp 1 pint oysters, drained 1- 6oz can crabmeat or 1/2 cup fresh 1 can 4oz ...
Read more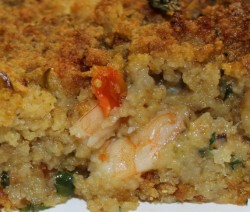 Enjoy this fun information on LA seafood: in a blind taste test, consumers chose Louisiana oysters over others sold in the US 85% of the time. Cajuns will chose it 100% of the time. Fried Oyster or Fried Shrimp compliment this dish. Ingredients1 stick butter 1 medium onion minced 3 ...
Read more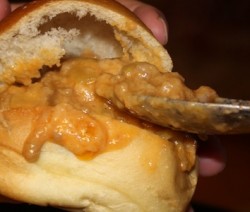 Pistolettes are a football shaped brown 'n serve bread rolls also known as French rolls. The inside of these rolls are carved out and replacing the cavity a delicious concoction of shrimp or crawfish wonderment. As my son says, there is nothing that taste better than 2 carbs together. This ...
Read more