Crawfish or Shrimp Pistolettes aka Stuffed Beignets
2012-10-06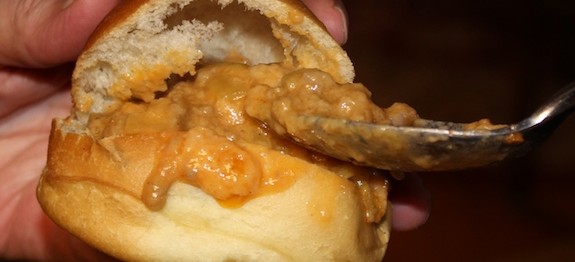 Yield :

24

Servings :

24

Prep Time :

60m

Cook Time :

15m

Ready In :

1:15 h
Pistolettes are a football shaped brown 'n serve bread rolls also known as French rolls. The inside of these rolls are carved out and replacing the cavity a delicious concoction of shrimp or crawfish wonderment. As my son says, there is nothing that taste better than 2 carbs together. This is it – !pistolette de ralentissements! for a small group. This crawfish/shrimp pistolettes recipe is the ONE that was prepared for the Maltrait Memorial School October Fete Bazaar in Kaplan, LA. The recipe is from MS Margaret David (Tissa's Mom); reduced for smaller quantities. The original recipe was for 50 pounds of crawfish. Also you don't have to fry them…baking works!!!
Ingredients
2 1/2 pound crawfish tails or shrimp
2 1/2 stick butter or margarine
2 ounces margarine for brushing
3 medium onions
1 small stalk of celery or 6 ribs chopped fine
1 cup bell pepper chopped fine
1 tbsp garlic cloves minced
3/4 cup chopped parsley
3/4 cup chopped green onions (scallions)
2 cans mushroom soup or 1 cream of mushroom and 1 cream of shrimp
8 ounces Velveeta cheese
1 small can or jar of pimentos (optional)
1 tsp black pepper
1/2 tsp cayenne or more (optional)
1/2 tsp Season All or Cajun Seasonings
hot sauce to taste
1 tsp Accent (optional)
2 bags Pistolette Rolls (24) or dinner rolls that are large enough to be stuffed
enough flour and water to make a paste
Directions
Step 1
First prepare the pistolettes rolls; cut off one end, about 11/2-inch thick, and set aside. Take a knife and cut a pyramid shape opening into the heart of the roll and remove the middle of the roll. (Save this bread to make bread pudding.) Keep the two pieces of roll together for an easier fit. Set aside. Make a glue with 1 part flour and 3 parts water - Set aside.
Step 2
In medium saucepan over medium heat melt the butter and sauté the onion, bell pepper, celery and garlic until onions have wilted.
Step 3
Add the seasonings along with the cans of cream of mushroom and/or cream of shrimp. Add the Velveeta cheese and stir until completely melted. Add the crawfish/shrimp to the mixture. Note - you could chop the crawfish/shrimp into smaller pieces as in a dip. Bring to a boil then simmer about 10 minutes. Do not forget to stir to prevent scorching. You could choose to add more or less cheese to achieve your desired "pudding" consistency. Add the parsley and green onions to mixture combining well. Once cooked set aside to cool some.
Step 4
Once cooled, fill the pocket of the bun with 1/4 cup of the filling. Dip the nose of the bun in the "glue" of flour and water and attach it to the same bun. Push the roll to the side of the tray to secure.
Step 5
Stuffed Pistolettes may now be baked at 375 degrees F until golden brown about 20 minutes. If frying, drop into heated cooking oil until browned. Make sure there is enough oil to cover the pistolettes. Drain fried pistolettes on paper towels; serve hot.

The pistolettes can be frozen until needed. Remove from freezer one hour before baking or frying. These are the best!