Recipe Type:
All Seafood Mawmaw was told that this was the secret dish that wooed this happy lady into marriage. The author also adds that "this is a famous and expensive New Orleans dish that you serve as is with crusty French bread and use the juice w/butter as the dip". Ingredientsfresh shrimp with ...
Read more More and more Cajun families are combining cuisines to make wonderful meals for families. Our author write "We make this cornbread for every holiday, every special occasion and just whenever we crave it. Where other Mexican corn breads are dry, this cornbread is very moist and delicious. It is a ...
Read more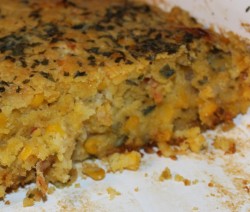 Mouth-watering Caj-Mex Cornbread that can be a meal in itself or as a side dish. Ingredients2 boxes jiffy cornbread mix 2 eggs 2/3 cup milk 1 pound ground beef or crawfish 1 medium onion, chopped 1 small bell pepper, chopped 1 jar sliced mushrooms 1/2 bag shredded Mexican cheese 1 ...
Read more Eggplant "Cajun Canoe" fried with Italian style bread crumbs and manned by a crew of 5 Creole garlic butter sautéed shrimp. Ingredients1 large eggplant, quartered and v-carved into a canoe shape 2 cups Italian bread crumbs 20 large shrimp, peeled except the tail 3 cloves to 5 of garlic, chopped ...
Read more We know Mawmaw and Grandma did not have the luxury of cream soups but that does not mean a Cajun can't use them. Especially since Mawmaw and Grandma now use them too! Ingredients1 cup margarine or butter 1 cup onion chopped 1 cup bell pepper chopped 5 cups raw shrimp ...
Read more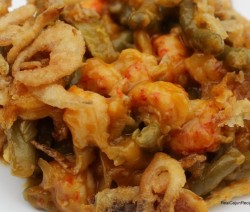 A new take on an old holiday classic favorite – the traditional green bean casserole. This is just the change you are looking for. Par-boiled fresh green beans may be used. Green beans and string beans are used interchangeable in the Cajun vocabulary. Shrimp may be used in place of ...
Read more The original recipe was for the broccoli corn bread and it was my family's favorite. But my husband has to have some type of meat, so I came up with this, and everyone loved it. I have also used shrimp, left over chicken that I deboned or even pre-cooked ground ...
Read more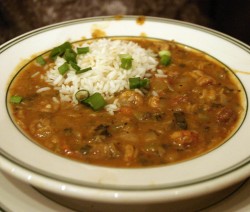 Bar none, this is the best crawfish etouffee I've ever had that doesn't require a roux or FRESH crawfish, which I do not have access to in Wisconsin. This recipe utilizes frozen, packaged crawfish tails which are easily attainable in your grocer's seafood section. I hope you all enjoy it ...
Read more