Recipe Type:
All Seafood A Cajun classic. Ingredients1 medium chopped onion 1 stick margarine 1 chopped celery rib 4 tbsp flour 1 pound crawfish 1 pint half and half 8 oz Velveeta cheese 12 ounces fettuccine Cajun SeasoningDirectionsStep 1Sauté onions and celery in margarine, add flour gradually, then half and half and cheese heat ...
Read more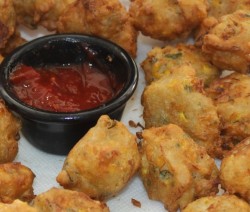 MawMaw halved the recipe and still made 20 beignets. Ingredients4 cups canola 3 cups flour 2 cups milk 1 tbsp baking powder 1 tbsp seasoned salt 1 tbsp garlic 1 tsp thyme 1 tsp Original Louisiana hot sauce 1 pound lump crab meat 2 cups fresh corn cooked 1/4 cup ...
Read more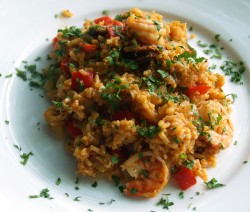 Ingredients3 pounds cleaned shrimp 1 pound crabmeat 1 dozen oysters 1 pound smoked sausage 3 cups rice 1 small can tomato sauce 1 large onion chopped 2/3 cup chopped parsley 1/2 cup shallots (not scallions) 1 cup chopped bell pepper 2/3 cup cooking oil salt and red pepper to tasteDirectionsStep ...
Read more Here is yet another rendition of Shrimp Etouffee that I have worked a little. I've had many compliments for this version. Ingredients2 pounds peeled deveined shrimp (cut into bite sized pieces) 1/2 cup chopped celery 1 medium chopped onion 1 stick butter (8 Tbsp) 1 tbsp tomato paste 1/2 cup ...
Read more I've always loved pastalaya. Ingredients1/4 cup plus 3/4 teaspoon salt, divided 1 pound dry penne 3 tbsp olive oil, divided 1 pound peeled, deveined large shrimp 2 tbsp plus 1 teaspoon Creole Seasoning (Tony's) 3/4 pound boneless, skinless chicken breast, 1-inch diced 3/4 pound andouille sausage, diced into 1/2-inch pieces ...
Read more Eggplants compliment other foods nicely as a side dish and are hearty enough to steal the show in a main course – as this recipe sure will! Ingredients2 large eggplants 1 tbsp salt 1 medium onions, diced 1 bell pepper, diced 1/2 cup diced celery 2 large cloves garlic, minced ...
Read more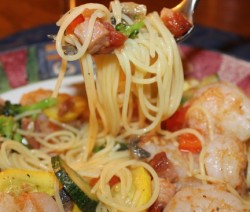 Tasso, a nicely seasoned, intensely flavored smoked pork, adds a wonderful flavor to this dish. This recipe also goes really well with grits. Ingredients1/3 cup olive oil 2 cloves garlic, chopped 1/3 cup diced Tasso 1/2 pound peeled shrimp 2 tsp Creole seasoning 1/4 red bell pepper, diced 1 zucchini, ...
Read more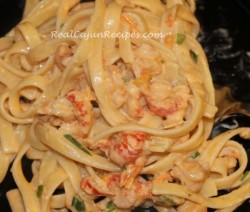 This recipe is an adapted version of the original recipe and has been a popular requested dish. From Wikipedia  ~ Crawfish Monica is a Louisiana food tradition. Ingredients include pasta, crawfish tail meat, onion, garlic, seasoning, cream, wine, salt, pepper, and butter. The original dish was created by chef Pierre Hilzim who is the ...
Read more